Newsroom
Aspirin as good as blood thinner for preventing blood clots after hip and knee replacement surgery
April 6, 2018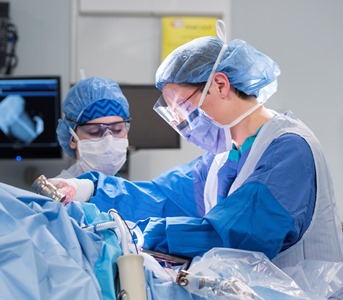 Drs. Paul Kim, Wade Gofton, Phil Wells, Marc Rodger, Marc Carrier and Doug Coyle co-authored a study in the New England Journal of Medicine that found aspirin to be just as good as the blood thinner rivaroxaban for preventing blood clots after a hip or knee replacement. These blood clots can be deadly if they travel to the lungs, and are the third most common cardiovascular cause of death after heart attack and stroke. All 3,424 patients in the trial took rivaroxaban for five days after their surgery. Then half the patients continued taking rivaroxaban while half took aspirin for an additional nine days for a knee replacement or 30 days for a hip replacement. Results showed that the two medications are equally safe and equally good at preventing blood clots. Aspirin costs much less than rivaroxaban, so this study could lead to significant savings for the health-care system. There were 53,000 hip and 64,000 knee replacements done in Canada in 2015.

Authors: David R. Anderson, Michael Dunbar, John Murnaghan, Susan R. Kahn, Peter Gross, Michael Forsythe, Stephane Pelet, William Fisher, Etienne Belzile, Sean Dolan, Mark Crowther, Eric Bohm, Steven J. MacDonald, Wade Gofton, Paul Kim, David Zukor, Susan Pleasance, Pantelis Andreou, Steve Doucette, Chris Theriault, Abongnwen Abianui, Marc Carrier, Michael J. Kovacs, Marc A. Rodger, Doug Coyle, Philip S. Wells, and Pascal-Andre Vendittoli.

Funding: This study was funded by the Canadian Institutes of Health Research. Clinical trials at The Ottawa Hospital are possible because of generous support from the community for Research to Improve Patient Care.


The Ottawa Hospital: Inspired by research. Driven by compassion
The Ottawa Hospital is one of Canada's largest learning and research hospitals with over 1,100 beds, approximately 12,000 staff and an annual budget of over $1.2 billion. Our focus on research and learning helps us develop new and innovative ways to treat patients and improve care. As a multi-campus hospital, affiliated with the University of Ottawa, we deliver specialized care to the Eastern Ontario region, but our techniques and research discoveries are adopted around the world. We engage the community at all levels to support our vision for better patient care. See www.ohri.ca for more information about research at The Ottawa Hospital.
University of Ottawa: —A crossroads of cultures and ideas
The University of Ottawa is home to over 50,000 students, faculty and staff, who live, work and study in both French and English. Our campus is a crossroads of cultures and ideas, where bold minds come together to inspire game-changing ideas. We are one of Canada's top 10 research universities—our professors and researchers explore new approaches to today's challenges. One of a handful of Canadian universities ranked among the top 200 in the world, we attract exceptional thinkers and welcome diverse perspectives from across the globe. www.uottawa.ca
Media Contact
Amelia Buchanan
Senior Communication Specialist
Ottawa Hospital Research Institute
Office: 613-798-5555 x 73687
Cell: 613-297-8315
ambuchanan@ohri.ca