Newsroom
News Release
The Ottawa Hospital opens one-of-a-kind neuromuscular research centre
May 1, 2018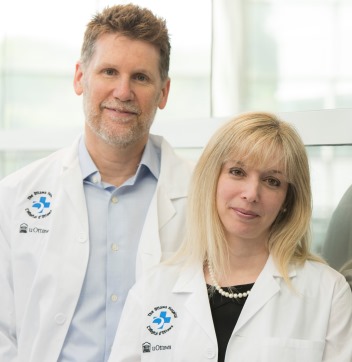 You can help!
The Ottawa Hospital needs crucial equipment for neuromuscular research, including:
An ultracentrifuge that separates cells into different components by spinning themat very high speed.
This crucial piece of equipment can exert a force that is close to 10,000 timeswhat you would feel in an aerobatic plane. It will allow scientists to study DNA,proteins and other cell components from people with neuromuscular diseases.
A sterile workstation that allows researchers to grow and study human neuromuscularcells and tissues.
This workstation has a large window with a small opening for a laboratory workerto insert their arms so they can manipulate the cells. It constantly blows air out,to keep human cells safe from bacteria and other contaminants.
A system that uses multiple lasers to detect tiny pieces of cells called exosomes.
Researchers at The Ottawa Hospital have discovered that exosomes floating aroundin a patient's blood may provide a simple way to monitor the progress of certain neuromuscular diseases.This technology could also help with evaluating new therapies in clinical trials.
Donate now
People with neuromuscular diseases such as ALS and muscular dystrophy will soon have access to cutting-edge research at The Ottawa Hospital's new Neuromuscular Centre. The centre, which opened at The Ottawa Hospital's Civic Campus on April 30, is a hub for clinicians and scientists to collaborate and to develop new treatments. Ottawa boasts one of the highest concentrations of neuromuscular researchers in the world, including more than 200 scientists, clinicians, trainees and staff and is widely acknowledged to be an international leader in this field.
"This is exactly the care we'd want for our loved ones," said Dr. Jodi Warman Chardon, a neurologist and associate scientist at The Ottawa Hospital and assistant professor at the University of Ottawa. "Clinicians working together with scientists – we'll be unstoppable to better understand disease mechanisms and develop new therapies. The centre will be a game changer and that's what we need for our patients."
Dr. Warman Chardon used to take the train regularly to Montreal, and she often saw patients with neuromuscular diseases travelling to take part in clinical trials there that weren't available in Ottawa. Other patients had to travel to Toronto, London and even Miami.
"It just humbled me," said Dr. Warman Chardon. "So many people are desperate to participate in clinical trials. I realized that we needed to offer more therapies and research to our patients, and do so closer to home."
Research is built right into the new centre. There are designated rooms for clinical trials, as well as space for scientists to collect and rapidly analyze blood, skin and muscle samples.
"The way we have integrated research into neuromuscular care is unique in Canada" said Dr. Robin Parks, a senior scientist at The Ottawa Hospital and professor at the University of Ottawa who helped establish the centre with Dr. Warman Chardon. "Ottawa is already a world-leader in neuromuscular discovery research and now we have the potential to lead the way in clinical research as well."
This model of building spaces where clinicians and basic scientists can work together on the cures of tomorrow is part of the vision of The Ottawa Hospital's new campus.
"The integrated care and research at the new Neuromuscular Centre gives us a glimpse of the cutting-edge health care that a new 21st-century campus will bring to Ottawa and eastern Ontario. Building a world-class centre right here at home means that fewer patients will have to travel for care, and keeps Ottawa at the forefront of patient care and health research," said Dr. Jack Kitts, President and CEO of The Ottawa Hospital.
The new centre is expected to provide world-class care for about 10,000 people every year with diseases such as ALS (amyotrophic lateral sclerosis, aka Lou Gehrig's disease), myotonic dystrophy, muscular dystrophy and Guillain-Barré Syndrome.
It was funded by generous donors who supported neuromuscular research at The Ottawa Hospital.
Researchers and clinicians at The Ottawa Hospital's Neuromuscular Centre are also affiliated with the University of Ottawa's Centre for Neuromuscular Disease and the University of Ottawa Brain and Mind Research Institute.
About The Ottawa Hospital: Inspired by research. Driven by compassion.
The Ottawa Hospital is one of Canada's largest learning and research hospitals with over 1,100 beds, approximately 12,000 staff and an annual budget of over $1.2 billion. Our focus on research and learning helps us develop new and innovative ways to treat patients and improve care. As a multi-campus hospital, affiliated with the University of Ottawa, we deliver specialized care to the Eastern Ontario region, but our techniques and research discoveries are adopted around the world. We engage the community at all levels to support our vision for better patient care. See
www.ohri.ca
for more information about research at The Ottawa Hospital.
University of Ottawa: —A crossroads of cultures and ideas
The University of Ottawa is home to over 50,000 students, faculty and staff, who live, work and study in both French and English. Our campus is a crossroads of cultures and ideas, where bold minds come together to inspire game-changing ideas. We are one of Canada's top 10 research universities—our professors and researchers explore new approaches to today's challenges. One of a handful of Canadian universities ranked among the top 200 in the world, we attract exceptional thinkers and welcome diverse perspectives from across the globe. www.uottawa.ca
Media Contact:
Amelia Buchanan, Senior Communication Specialist, Ottawa Hospital Research Institute;
ambuchanan@ohri.ca
; Cell: 613-297-8315; Office: 613-798-5555 x 73687