Newsroom
News Story
Cochrane Collaboration brings balanced, up-to-date health information to Canadians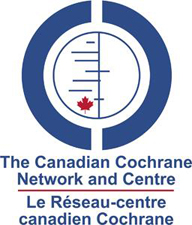 Ever wondered if cleaning a wound with water really helps prevent infection? Or if vitamin C has any effect on the common cold? Or if tai chi can help in treating rheumatoid arthritis? These are just a few of the questions addressed in Cochrane reviews, which are well known for providing the "gold standard" of evidence in medicine.

Cochrane reviews are produced by members of the Cochrane Collaboration, an international not-for-profit organization founded in 1993. The Canadian arm of the Cochrane Collaboration is led by Dr. Jeremy Grimshaw, Senior Scientist and Director of the OHRI Clinical Epidemiology Program and Professor in the University of Ottawa Department of Epidemiology and Community Medicine.

OHRI researchers have contributed to Cochrane reviews that have answered fundamental health questions for professionals and the general public. Recent findings include:

Currently, all Canadians can access summaries of Cochrane reviews freely on the web, but in most provinces, users are required to pay to access the full articles. Dr. Grimshaw is leading a national effort to convince the federal and provincial governments to purchase a national license to the Cochrane Library, for just 1.5 cents per citizen per year. Many other countries have negotiated licenses to the Cochrane Library, and currently more than 50 per cent of the world's population has access. To show your support for a Canadian Cochrane Library licence, please sign this
electronic petition
.
Note that the Canadian Cochrane Network and Centre is funded by the
Canadian Institutes of Health Research
and the
Canadian Agency for Drugs and Technologies in Health
. Research at the OHRI is supported by funding agencies such as those listed
here
and by
The Ottawa Hospital Foundation
.