Newsroom
News Story
Focus on kidney disease research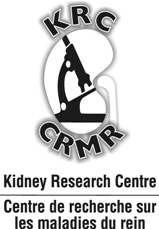 Established in 2000, the Kidney Research Centre (KRC) is Canada's first centre dedicated to kidney research. The KRC is one of the established research centres of the Ottawa Hospital Research Institute (OHRI), affiliated with the University of Ottawa and The Ottawa Hospital.

At the KRC, focus is on the prevention of kidney disease and finding improved treatments. Laboratory scientists (Drs. K. Burns [Director], C. Kennedy, R. L. Hébert, D. Z. Levine and R. Touyz) conduct research on the molecular pathways that lead to kidney damage in humans. Current studies are focused on:

• How does diabetes cause kidney damage?
• How does high blood pressure injure blood vessels, leading to kidney failure?
• How do the tiny filters within kidneys, (glomeruli) get injured in many forms of kidney disease (glomerulonephritis)?
• What is the effect of certain pain medications (antiinflammatory drugs) on kidney structure and function?

With the assistance of a dedicated team of research nurse coordinators, and a clinical trials manager (Ms. J. Cheesman), KRC clinical investigators (Drs. A. Akbari, G. Knoll, P. Magner, M. Ruzicka, D. Zimmerman and others) conduct research studies in patients with kidney disease, directed at:

• Improving the early detection of kidney disease.
• Finding better treatments to prevent kidney transplant failure.
• Improving the lives of people on dialysis.
• Discovering the causes of high blood pressure in people with kidney disease.

Another important goal of the KRC is to train the next generation of kidney research leaders. The KRC has attracted students and trainees from around the world.

New Kidney Research Centre to open in the fall of 2006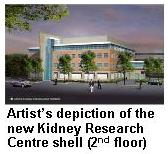 KRC laboratory scientists are looking forward to moving into new research space in the fall of 2006. This new space consists of 15,000 sq ft on the second floor of a new building located at the University of Ottawa Medical School (adjacent to the General campus of The Ottawa Hospital). With this move, the KRC will acquire new state of the art research equipment and expand its efforts into the prevention of kidney disease progression.

For more information:

• Download the October 2005 KRC newsletter (pdf)
• Download the KRC pamphlet (pdf)
• Link to kidney research on the OHRI website
• Link to the Division of Nephrology on The Ottawa Hospital website
• Download the OHRI's Research Triumphs magazine to read about the KRC's progress in chronic kidney disease detection (as well as other OHRI research stories)
• Contact Pauline Messier, KRC Administrative Assistant at pmessier@ohri.ca

To support the KRC:

• Participate in a KRC Euchre Tournament Fundraiser, held on the second Saturday of every month at Lorenzo's restaurant on Arch street in Ottawa.
• Join the Annual KRC Charity Bowl-a-Thon, held in April every year.
• Come out to the Annual KRC Golf Tournament held in June of every year. This year's tournament will be held on June 11, 2007 at the Outaouais Golf Course. For more information, see www.lorenzos.ca/events.html.

For more information on any of these events, please contact Pauline Messier at pmessier@ohri.ca or 613-562-5800 ext. 8240.

Note: KRC scientists are also supported by funds from the Kidney Foundation of Canada (KFoC) and the Canadian Institutes of Health Research (CIHR), amongst other sources.