Newsroom
News Release
Outstanding health research on display at OHRI's 10th Annual Research Day
November 19, 2010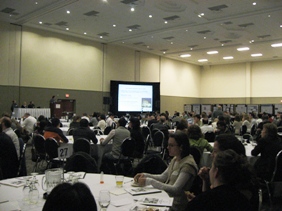 The Ottawa Hospital Research Institute's 10th Annual Research Day was a great success this year, with more than 340 attendees, 130 posters and 20 oral presentations. Held at the Hampton Inn on November 18, 2010, the event was designed to promote scientific interaction and highlight the outstanding work of students and fellows.

Winners of the Poster and Platform Presentation Competitions include:

Platform Presentation Competition:
1st Place: Dr. David Conrad in Dr. Harry Atkins' group for "Oncolytic virus-derived biologic therapies for hematologic malignancies to eradicate residual disease after remission induction"


2nd Place: Dr. Kaissa de Boer in Dr. Shawn Aaron's group for "Relationship Between Exacerbation Frequency and Clinical Outcomes in Patients with Cystic Fibrosis"


3rd Place: Andrew Ferrier in Dr. Rashmi Kothary's group for "Elucidating the role of neuronal dystonin isoforms in mediating neurodegeneration in dystonia musculorum"
Postdoctoral Fellow Poster Competition:
1st Place: Dr. Qi-Cai Liu in Dr. Jeffrey Dilworth's group for "p38 MAP Kinase signaling is required for fusion of myoblasts during myogenesis"


2nd Place: Dr. Florian Bentzinger in Dr. Michael Rudnicki's group for "A transitional fibronectin-rich extracellular matrix controls satellite cell lineage progression"


3rd Place: Dr. Charlene Young in Dr. Nuch Tanphaichitr's group and Dr. Jonathan Angel's group for "HIV-1 Bind to Sperm via Interaction with SGG"
PhD Student Poster Competition:
1st Place: Jessie Lavoie in Dr. Duncan Stewart's group for "Proteomic assessment of progenitor cell dysfunction: relevance for cardiovascular repair"


2nd Place: Chantal Lemay in Dr. John Bell's group for "Harnessing Immunity During Oncolytic Virus Therapy with MS-275"


3rd Place: Feras Al Ghazawi in Dr. Paul MacPherson's group for "IL-7 Suppresses Transcription of the CD127 Gene in CD8 T-Cells"
MSc Student and Other Poster Competition:
1st Place: Dominic Roy in Dr. John Bell's group for "Insect Cell Carriers for Systemic Delivery of Oncolytic Viruses


2nd Place: Agnieszka Kus in Dr. Rebecca Auer's group and Dr. John Bell's group for "Developing a Neoadjuvant Murine Surgical Model of Cancer using Oncolytic Vesicular Stomatitis Virus"


3rd Place: David Carr in Dr. Antonio Colavita's group for "A novel C. elegans genetic screen to identify new planar cell polarity components"


Honourable Mention: Amy-Jayne Hutchings in Dr. Eve Tsai's group for "PLGA Channels are Found to Decrease the Distance Between Stumps Whilst Also Causing an Increase in Axonal Bridging of the Transected Stump Following Spinal Cord Injury"
In addition to the posters and presentations by OHRI researchers, two external speakers were invited to give keynote lectures. Dr. Tom Hudson, President and Scientific Director of the Ontario Institute for Cancer Research, spoke about "Personalized Medicine for Cancer", while Dr. Jonathan Kimmelman, Associate Professor at McGill University, spoke about "Of Mice but not yet Humans: Science, Ethics and Clinical Translation". The program also included a special session on new advances in translational cancer research at OHRI.
Silver-level sponsors included Fisher Scientific, VWR and illumina. Bronze level sponsors included Sarstedt, Pfizer and Beckman Coulter.
About the Ottawa Hospital Research Institute
The Ottawa Hospital Research Institute (OHRI) is the research arm of The Ottawa Hospital and is an affiliated institute of the University of Ottawa, closely associated with the University's Faculties of Medicine and Health Sciences. The OHRI includes more than 1,500 scientists, clinical investigators, graduate students, postdoctoral fellows and staff conducting research to improve the understanding, prevention, diagnosis and treatment of human disease. www.ohri.ca