Newsroom
News Release
Ottawa researcher helps launch world's first open access journal for systematic reviews
February 10, 2012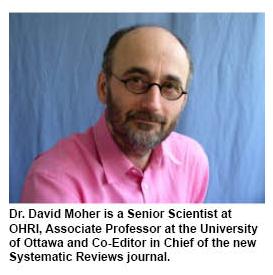 Clinical trials often have inconclusive findings and sometimes produce results that are contradicted by subsequent studies. Those that evaluate the effectiveness of an intervention thoroughly, may lack the same rigor when reporting on associated adverse events. Even under the most rigorous conditions, an individual trial will rarely provide definitive results.

Today, BioMed Central launches Systematic Reviews, a new journal which encompasses all aspects of the design, conduct and reporting of systematic reviews and associated research. As the first open access journal dedicated to the topic, Systematic Reviews will not only provide a home for protocols, methodologies and updates to previous research, but will also contribute to the increased dissemination and transparency in reporting of trials and reviews.

With an ever increasing volume of research and data published across biomedicine, this new venture from the pioneer of open access publishing represents a concerted effort to ensure high-quality systematic reviews help complete our understanding of science and healthcare. And in doing so, underpin improvements in the quality and outcomes of practice and policy formation.

Speaking of the launch, Editors in Chief of Systematic Reviews, Dr. David Moher from the Ottawa Hospital Research Institute and the University of Ottawa, Dr. Paul Shekelle from Rand, and Dr. Lesley Stewart from the Centre for Reviews and Dissemination, agreed: "The explosion in the number of systematic reviews being published across a range of disciplines demonstrates widespread interest in a broad range of systematic review activities and products. Beyond the Cochrane Library there is no journal singularly devoted to all things systematic review. We hope Systematic Reviews will become that journal and that its open access status will attract authors and readers globally."

Supporting best practice the journal launches with a thematic series featuring five articles on the importance of registering systematic reviews, and also includes a commentary from Dame Sally Davies, Chief Medical Officer for England, supporting the registration of systematic reviews with registries such as PROSPERO.

Writing in support of the new journal launch, Dr Ben Goldacre from London School of Hygiene and Tropical Medicine stated: "Medicine cannot depend on meandering essays, presenting an incomplete or inconsistent view of the scientific literature: to understand whether treatments work or not, we need complete summaries - collating all the evidence - using clearly explained methods to track it down. Systematic reviews are the key, and yet this tool is surprisingly new in medical science. At a time of rising concern about biased under-reporting of negative results, it's good to see a new open access journal devoted to improving the science of systematic reviews."

Media Contact
Matt McKay
Head of Communications, BioMed Central
Tel: +44 (0) 20 3192 2216
Mob: +44 (0) 7825 257 423
Email: matthew.mckay@biomedcentral.com

Note: This media release was adapted from a media release produced by BioMed Central.