Newsroom
News Story
Outstanding outreach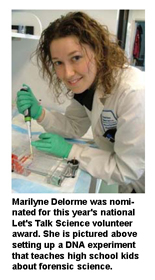 Medical research is a demanding field, but a number of OHRI scientists, clinical investigators, and students find time for outreach activities in the community. In fact for many, explaining their research and answering questions is one of the most rewarding parts of the job. OHRI researchers are involved in a number of outreach activities, from Let's Talk Science, to a student biotech lecture series, to Mini-med classes for the public, and more.

Grad students team up with local schools through Let's Talk Science

From DNA forensics experiments, to chemistry magic shows, and science fairs, Let's Talk Science (LTS) volunteers know how to get young peoples' attention. The Ottawa chapter of LTS was started up in 1993 by Dr. Barbara Vanderhyden of the OHRI's Centre for Cancer Therapeutics, and her husband, NRC scientist Dr. Paul Morley. This year, LTS has more than 100 graduate student volunteers in Ottawa, including many from the OHRI. Since October, they have performed more than 200 hands-on activities in elementary and high schools around Ottawa (and sometimes beyond).

Marilyne Delorme, a student in Dr. David Picketts' lab, was nominated for this year's national LTS volunteer award. "I like Let's Talk Science because I am so interested in science, and it gives me an opportunity to get other people interested in science as well," said Marilyne. In the last year, she particularly enjoyed doing LTS activities at her old high school, in Plantagenet. "It's a small high school and they don't have access to all the things city schools have, so it was really great to be able to give them this experience," she said.

Six OHRI scientists involved in student biotech lecture series

OHRI Scientists have become a regular feature at the annual student biotech lecture series at the Canada Science and Technology Museum. This year's event, to be held on May 2nd and 3rd, will feature talks from six OHRI scientists, including Drs. Michael Rudnicki, Robin Parks, May Griffith, Barbara Vanderhyden, and John Bell. A panel discussion featuring Dr. Harry Atkins promises to be particularly interesting. He will talk about his experimental stem cell therapy for MS, and he will be joined by an MS patient and a stem cell ethicist.

Parkinson's Research Consortium leaders visit local grade school

Explaining the brain to a four-year-old requires an interactive approach. So on April 4th, at Berrigan Elementary School, Dr. David Park had all the students raise their hands while they thought about the nerves carrying signals from their brain to the rest of their body. And to show students what Parkinson's disease feels like, Dr. David Grimes had them compare running in shoes, with running in snow boots, with running in ski boots.

"It was very rewarding," said Dr. Park, of his recent outreach activity. "The kids were really interested, and the teachers gave us great feedback too." The event was organized by Shelby Hayter, a mother of three Berrigan students who was diagnosed with Parkinson's disease last year. The event was designed to raise awareness of Parkinson's disease, and also to raise money for the Parkinson's Research Consortium, co-chaired by Drs. Park and Grimes.

University of Ottawa Mini-Med School

The University's of Ottawa launched a second round of its popular Mini-Med lectures this spring. While the fall session has always focused on describing body systems, such as the immune system and the circulatory system, the new spring session focuses on diseases such as cancer, diabetes, and the flu. The lectures attract a wide variety of people, most of whom have no formal science background. Twelve professors from the Faculty of Medicine are involved, including seven OHRI Clinical Investigators (Drs. Baldwin Toye, Anne McCarthy, Roanne Segal, Shailendra Verma, Paul Roy, Erin Keely, and Michael Bell).

"It was a really good experience," said Dr. Toye, who gave the first lecture on infectious diseases in March. "It is very different speaking to the public about things that we tend to take for granted in everyday practice and research. You end up spending a lot more time preparing, but I think it is really important."

For an idea of the commitment made by mini-med lecturers, read this Ottawa Citizen profile of Dr. Mark Walker, a lecturer from the fall session.