Newsroom
News Release
Dr. John Bell honoured for outstanding achievements with top Canadian Cancer Society research award
May 9, 2012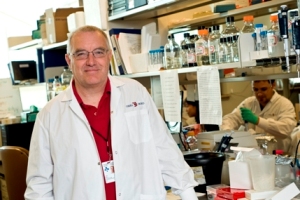 Ottawa researcher Dr. John Bell has been named the 2011 recipient of one of Canada's most prestigious scientific honours, the Canadian Cancer Society's Robert L. Noble Prize, which is given for outstanding achievements in cancer research. Dr. Bell has led a number of important initiatives aimed at developing oncolytic virus-based cancer therapies and evaluating their clinical potential.

"To be honoured in recognition of the esteemed Canadian scientist, Robert L. Noble, who has made such impressive contributions to how cancer is treated today, empowers me to continue my search for more effective therapies," says Dr. Bell, Senior Scientist, Ottawa Hospital Research Institute and Professor of Medicine, University of Ottawa. "I'm delighted to accept this honour and thank the Canadian Cancer Society for maintaining high research standards in this country."

"Dr. Bell's pioneering research embodies the excellence and innovation that forms the basis of the Society's top scientific award — the Robert L. Noble Prize," says Dr. Martin Kabat, CEO, Canadian Cancer Society, Ontario Division. "His exciting work in developing oncolytic virus-based cancer therapies is extremely promising and will lead to more effective therapies in the future that will save lives. We are pleased to see him receive this honour."

For more information, see the Canadian Cancer Society media release.

For information about participating in oncolytic virus clinical trials, see Information for cancer patients about oncolytic virus therapy.