Newsroom
News Story
Focus on emergency medicine research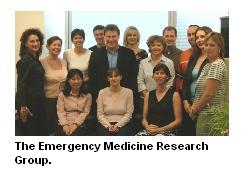 Every year, thousands of people who visit The Ottawa Hospital's Emergency Department receive better care because of research done by the physicians, fellows, and support staff of the Emergency Medicine Research Group.

For example, many patients will receive faster and more accurate diagnosis of ankle, knee, head, and neck injuries because of "Clinical Decision Rules" developed in Ottawa. These rules list a number of symptoms and characteristics that can be added to predict whether a patient is at high or low risk of having a given condition. They are available on posters, pocket cards, and hand-held computers.

Not only do these rules improve patient care, but they also reduce the need for X-rays and CT scans, thereby freeing up valuable hospital resources for the patients who need them most. A number of these rules are widely used in hospitals around the world, and the Ottawa Ankle Rules were even mentioned on the hit television show ER.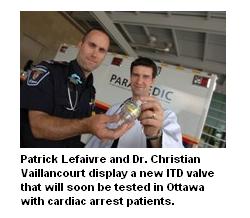 The Emergency Medicine Research Group is also working with the Ottawa Paramedic Service to improve care for trauma, cardiac arrest, and respiratory distress patients. They recently completed the largest pre-hospital study ever, including 18,000 cases in 17 cities. This study demonstrated the importance of bystander CPR in cardiac arrest survival, and illustrated how to get the most benefit out of defibrillators – devices used to shock the heart into adopting a normal rhythm.

The Emergency Medicine Research Group has also recently begun testing a treatment called "hypertonic saline resuscitation", which involves injecting trauma patients with a concentrated salt and sugar solution. It is hoped that this treatment will improve oxygen delivery and reduce pressure in the brain. Another experimental procedure that will soon be tested involves a special ITD valve (impedance threshold device) designed to improve blood flow in the lungs for patients with cardiac arrest.

The Emergency Medicine Research Group, led by Dr. Ian Stiell, has more than 20 members. For more information, visit their new website.