Newsroom
Ottawa researcher leads international clinical trial with new cancer drug
November 19, 2014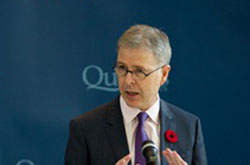 Dr. Glen Goss is the chair of an international clinical trial of a new class of cancer drug aimed at curing non-small cell lung cancer in patients who have had surgery and chemotherapy for the disease confined to the lungs. "This trial will test a new drug from an emerging class of agents that doesn't directly kill cancer cells but instead improves the patient's immune system's ability to fight and kill the cancer cells," said Dr. Goss. In patients with more advanced lung cancer, excellent and prolonged responses to the new agent have been seen. The academic-led trial BR31, sponsored by NCIC Clinical Trials Group at Queen's University will be available to lung cancer patients following standard treatment. Lung cancer is the second most common cancer in North America and is the leading cancer killer in both men and women. The trial will be open to 1,100 patients in Canada and around the world. Read more in the Queen's Gazette.


Ottawa Hospital Research Institute
The Ottawa Hospital Research Institute is the research arm of The Ottawa Hospital and is an affiliated institute of the University of Ottawa, closely associated with its faculties of Medicine and Health Sciences. The Ottawa Hospital Research Institute includes more than 1,700 scientists, clinical investigators, graduate students, postdoctoral fellows and staff conducting research to improve the understanding, prevention, diagnosis and treatment of human disease. Research at Ottawa Hospital Research Institute is supported by The Ottawa Hospital Foundation.
For further information, please contact
Paddy Moore
Communications and Public Relations
Ottawa Hospital Research Institute
padmoore@ohri.ca
Office: 613-737-8899 x73687
Cell: 613-323-5680