Newsroom
Weston grants to accelerate development of new therapies for Parkinson disease and related dementias
November 26, 2014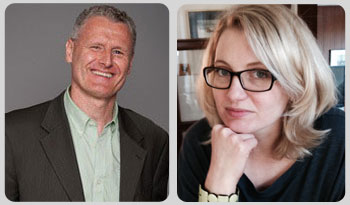 Drs. Michael Schlossmacher and Julianna Tomlinson and their colleagues have been awarded $300,000 from the Weston Brain Institute for two research projects aimed at developing new therapies for Parkinson disease and dementia with Lewy bodies. These projects stem from the Schlossmacher groupís recent research revealing how GBA1 gene mutations contribute to both of these diseases. The first grant (led by Dr. Tomlinson) will allow the team to characterize an innovative new mouse model based on this research, while the second grant (led by Dr. Schlossmacher) will allow them to use the mouse model to see if small molecules that target GBA1 may be able to improve behavioural and biochemical abnormalities.



Ottawa Hospital Research Institute
The Ottawa Hospital Research Institute is the research arm of The Ottawa Hospital and is an affiliated institute of the University of Ottawa, closely associated with its faculties of Medicine and Health Sciences. The Ottawa Hospital Research Institute includes more than 1,700 scientists, clinical investigators, graduate students, postdoctoral fellows and staff conducting research to improve the understanding, prevention, diagnosis and treatment of human disease. Research at Ottawa Hospital Research Institute is supported by The Ottawa Hospital Foundation.
For further information, please contact
Paddy Moore
Communications and Public Relations
Ottawa Hospital Research Institute
Office: 613-737-8899 x73687
Cell: 613-323-5680
padmoore@ohri.ca