Newsroom
$450,000 grant to develop mathematically-designed drug-virus combination cancer therapies
December 10, 2014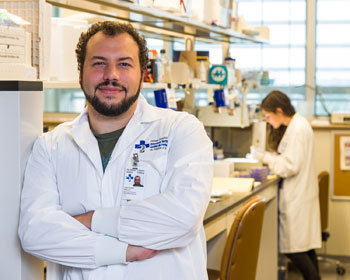 Dr. Jean-Simon Diallo has been awarded a $450,000 grant from the Canadian Cancer Society Research Institute to advance a therapeutic approach combining drugs with oncolytic viruses designed using mathematical modelling. Dr. Diallo and his colleagues have previously used this approach to accurately predict which genetic modifications would be the best for boosting the effect of oncolytic virus cancer therapy, as well as which chemotherapy–virus combinations would work best together. The new funding will help them gather more data to support new clinical trials in patients.


Ottawa Hospital Research Institute
The Ottawa Hospital Research Institute is the research arm of The Ottawa Hospital and is an affiliated institute of the University of Ottawa, closely associated with its faculties of Medicine and Health Sciences. The Ottawa Hospital Research Institute includes more than 1,700 scientists, clinical investigators, graduate students, postdoctoral fellows and staff conducting research to improve the understanding, prevention, diagnosis and treatment of human disease. Support our research. Give to the
Tender Loving Research
campaign.
For further information, please contact
Paddy Moore
Communications and Public Relations
Ottawa Hospital Research Institute
Office: 613-737-8899 x73687
Cell: 613-323-5680
padmoore@ohri.ca