Newsroom
Improving diagnosis of dangerous brain bleeds with two simple measurements
March 4, 2015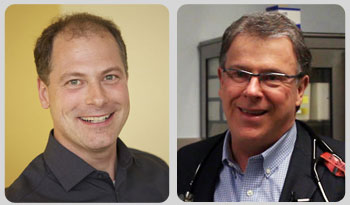 Drs. Jeff Perry and Ian Stiell recently published a paper in The BMJ (The British Medical Journal), outlining two measurements from spinal fluid that can help with the difficult task of determining whether a severe non-traumatic headache is actually the result of a dangerous brain bleed, called subarachnoid hemorrhage (SAH).

Subarachnoid hemorrhage affects approximately 35,000 people every year in Canada and the U.S, causing death in up to half of all cases. One method used to diagnosis SAH is a lumbar puncture, but results from one-third of these procedures can be confounding if there is blood present due to the procedure itself. To overcome this, the team in this multi-site study has developed criteria to identify those at low risk. Clear spinal fluid with a red blood cell count below a threshold means that a person can be safely managed without doing expensive, time consuming and potentially dangerous tests. See article for details.

Co-authors: Bader Alyahya, Marco L A Sivilotti, Michael J Bullard, Marcel Émond, Jane Sutherland, Andrew Worster, Corinne Hohl, Jacques S Lee, Mary A Eisenhauer, Merril Pauls, Howard Lesiuk, George A Wells.

Funders: Canadian Institutes of Health Research, Ontario Ministry of Health and Long Term Care, Physician's Services Incorporated Foundation, University of Ottawa, The Ottawa Hospital Foundation.


Ottawa Hospital Research Institute
The
Ottawa Hospital Research Institute
is the research arm of
The Ottawa Hospital
and is an affiliated institute of the
University of Ottawa
, closely associated with its faculties of Medicine and Health Sciences. The Ottawa Hospital Research Institute includes more than 1,700 scientists, clinical investigators, graduate students, postdoctoral fellows and staff conducting research to improve the understanding, prevention, diagnosis and treatment of human disease. Support our research. Give to the
Tender Loving Research
campaign.
For further information, please contact
Paddy Moore
Communications and Public Relations
Ottawa Hospital Research Institute
Office: 613-737-8899 x73687
Cell: 613-323-5680
padmoore@ohri.ca