Newsroom
Dr. Paul Beaulé recognized for insight into the cause of hip osteoarthritis
April 9, 2015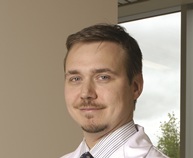 The Canadian Orthopaedic Foundation has honoured Dr. Paul E. Beaulé with the 2014 J. Edouard Samson Award, the premier research award for orthopaedic surgery in Canada. Dr. Beaulé and a multi-disciplinary team of basic science researchers looking at gait analysis, as well as bone and cartilage imaging, have furthered our understanding of how a deformity of the femur's head-neck junction (i.e. cam type femoroacetabular impingement) is a major cause of hip osteoarthritis. This problem usually develops during late adolescence when bones are maturing and could be caused by too much sporting activity at a young age. These deformities cause localized stress and bone remodelling that increases friction between the bone and cartilage, eventually resulting in cartilage failure. Understanding this means that early joint preservation techniques could delay or even avoid the onset of this painful condition and the eventual need for hip replacements, potentially reducing the health-care costs by hundreds of millions of dollars a year.


Ottawa Hospital Research Institute
The
Ottawa Hospital Research Institute
is the research arm of
The Ottawa Hospital
and is an affiliated institute of the
University of Ottawa
, closely associated with its faculties of Medicine and Health Sciences. The Ottawa Hospital Research Institute includes more than 1,700 scientists, clinical investigators, graduate students, postdoctoral fellows and staff conducting research to improve the understanding, prevention, diagnosis and treatment of human disease. Support our research. Give to the
Tender Loving Research
campaign.
For further information, please contact
Jennifer Ganton
Director, Communications and Public Relations
Ottawa Hospital Research Institute
Office: 613-737-8899 x73325
Cell: 613-614-5253
jganton@ohri.ca