Newsroom
Manosilah Yoganathan recognized for outstanding research in Co-op Program
April 15, 2015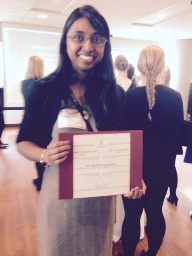 uOttawa's Faculty of Graduate and Post-doctoral Studies has named Manosilah Yoganathan the Best Co-op Student of 2014. Working under the mentorship of Dr. Dawn Stacey, Ms. Yoganathan developed one-page patient decision aids based on research evidence from Cochrane reviews, helped coordinate an international collaboration, conducted and analyzed research interviews and helped submit Research Ethics Board applications. She is also named as a co-author on an abstract submitted to an international conference. In addition to her co-op work and academic studies, Ms. Yoganathan also acts as a facilitator for CHEO's YouthNet program, which seeks to raise awareness of youth mental health issues.


Ottawa Hospital Research Institute
The
Ottawa Hospital Research Institute
is the research arm of
The Ottawa Hospital
and is an affiliated institute of the
University of Ottawa
, closely associated with its faculties of Medicine and Health Sciences. The Ottawa Hospital Research Institute includes more than 1,700 scientists, clinical investigators, graduate students, postdoctoral fellows and staff conducting research to improve the understanding, prevention, diagnosis and treatment of human disease. Support our research. Give to the
Tender Loving Research
campaign.
For further information, please contact
Jennifer Ganton
Director, Communications and Public Relations
Ottawa Hospital Research Institute
Office: 613-737-8899 x73325
Cell: 613-614-5253
jganton@ohri.ca