Newsroom
Survey of health care providers and patients highlights need for standardization of use of the Breast Cancer drug, docetaxel.
May 20, 2015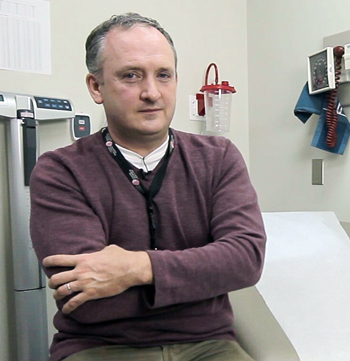 Drs. Mark Clemons and Brian Hutton have published the results of a survey on the use of steroids to prevent adverse reactions in patients receiving docetaxel chemotherapy, one of the most commonly used drugs in breast cancer. The article, published in Supportive Care in Cancer, reports on survey results showing that there are major differences in how the steroids are taken. Both health care providers and patients were asked about their experiences with steroid use in this setting. While 99 percent of patients surveyed believed they were taking the therapy as prescribed, 98 percent of medical practitioners responded knowing of patients who had taken the treatment improperly. Dr. Clemons notes that the survey identified the use of 10 different protocols. "There is a disconnect between health care providers and health care users that needs to be addressed" says Dr. Clemons. "The practice needs to be standardized so that the patient's understanding of how to take the therapy is communicated effectively."
Co-authors: Carmel Jacobs, Sasha Mazzarello, Stephanie Smith, Anil Joy, Eitan Amir, Mohammed F. K. Ibrahim, Nancy Gregario, Kelly Daigle, Lori Eggert


Ottawa Hospital Research Institute
The
Ottawa Hospital Research Institute
is the research arm of
The Ottawa Hospital
and is an affiliated institute of the
University of Ottawa
, closely associated with its faculties of Medicine and Health Sciences. The Ottawa Hospital Research Institute includes more than 1,700 scientists, clinical investigators, graduate students, postdoctoral fellows and staff conducting research to improve the understanding, prevention, diagnosis and treatment of human disease. Support our research. Give to the
Tender Loving Research
campaign.
For further information, please contact
Lois Ross
Senior Communications Specialist
Ottawa Hospital Research Institute
Office: 613-737-8899 x73687
Cell: 613-297-8315
loross@ohri.ca