Newsroom
$670,000 grant to advance development of exoskeleton for rehabilitation
June 24, 2015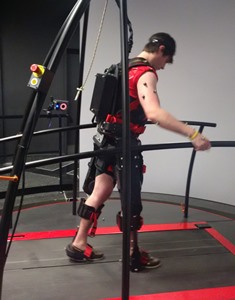 Dr. Edward Lemaire and his research team have been awarded a $670,000 VIP II grant from the Ontario Centres of Excellence to evaluate and develop the new ARKE exoskeleton, in partnership with Canadian company Bionik Laboratories Inc. This wearable robotic suit is designed to help people with spinal cord injuries or lower extremity weakness walk. This exploratory study will evaluate ARKE use within a physical rehabilitation environment to improve physical capacity for people with spinal cord injury and then use this information to refine ARKE so that it is ready for everyday use.


Ottawa Hospital Research Institute
The
Ottawa Hospital Research Institute
is the research arm of
The Ottawa Hospital
and is an affiliated institute of the
University of Ottawa
, closely associated with its faculties of Medicine and Health Sciences. The Ottawa Hospital Research Institute includes more than 1,700 scientists, clinical investigators, graduate students, postdoctoral fellows and staff conducting research to improve the understanding, prevention, diagnosis and treatment of human disease. Support our research. Give to the
Tender Loving Research
campaign.
For further information, please contact
Lois Ross
Senior Communications Specialist
Ottawa Hospital Research Institute
Office: 613-737-8899 x73687
Cell: 613-297-8315
loross@ohri.ca