Newsroom
News Release
The Ottawa Hospital awarded $28M from Canadian Institutes of Health Research for 22 research projects
July 28, 2015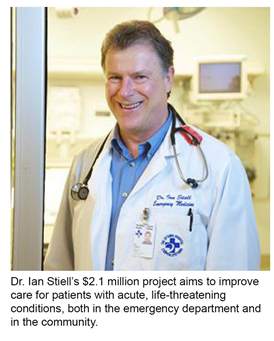 Twenty-two teams at The Ottawa Hospital, affiliated with the University of Ottawa, have been awarded more than $28 million in research grants from the Canadian Institutes of Health Research (CIHR). The Honourable Rona Ambrose, Minister of Health for the Government of Canada, announced these and other peer-reviewed grants from across the country earlier today in Calgary.

Seven of The Ottawa Hospital's grants were awarded through CIHR's new Foundation Grants competition, which aims to provide the country's top health researchers with significant, long-term support. The Ottawa Hospital's success rate in this competition was 23%, compared to a national average of 11%.

Dr. Ian Stiell, emergency physician and senior scientist at The Ottawa Hospital and distinguished professor at the University of Ottawa, had the top-ranked grant in the country in the Foundation Grants competition. His $2.1 million project aims to improve care for patients with acute, life-threatening conditions, both in the emergency department and in the community. For example, the grant will allow Dr. Stiell to expand his research on the Ottawa COPD Risk Scale, which helps emergency physicians determine which patients with chronic obstructive pulmonary disease (COPD) should be admitted to the hospital, and which can safely be sent home. This tool improves patient care and safety, and could save Ontario's health care system up to $115M over three years. Dr. Stiell and his colleagues are also conducting research to improve care for heart failure, cardiac arrest, stroke, traumatic injuries and other conditions.

The Ottawa Hospital's other successful Foundation Grants are in the areas of muscle regeneration (led by Dr. Jeffrey Dilworth), translating health knowledge into action (led by Dr. Ian Graham) implementation of evidence-based care (led by Dr. Jeremy Grimshaw) kidney transplantation (led by Dr. Greg Knoll), cardiovascular regenerative medicine (led by Dr. Duncan Stewart) and neonatal lung regeneration (led by Dr. Bernard Thébaud).

The Ottawa Hospital was also awarded 15 grants through CIHR's transitional Open Operating Grants Program competition, representing a 32% success rate compared to a national average of 19%. These grants are in the areas of molecular biology of leukemia (led by Dr. Marjorie Brand), bladder cancer surgery (led by Drs. Rodney Breau, Ilias Cagiannos and Franco Momoli), aneurysmal subarachnoid hemorrhage (led by Drs. Shane English and Lauralyn McIntyre), chronic disease prediction (led by Dr. Doug Manuel) fluid resuscitation in critical care (led by Drs. Lauralyn McIntyre and Monica Taljaard), rapid knowledge synthesis (led by Dr. David Moher), virology (led by Dr. Robin Parks), atrial fibrillation (led by Dr. Jeffrey Perry), epigenetics (led by Dr. David Picketts), stem cells and leukemia (led by Drs. Bill Stanford, Caryn Ito, Theodore Perkins and Mitchell Sabloff), dementia (led by Drs. Peter Tanuseputro and Doug Manuel), hematopoietic stem cell transplantation (led by Drs. Jason Tay, Dawn Sheppard and Alan Tinmouth), blood donation (led by Dr. Alan Tinmouth), retinal degeneration (led by Dr. Catherine Tsilfidis) and pregnancy (led by Drs. Shi Wu Wen, William Fraser and Mark Walker).

Grant summaries are available through CIHR's Funded Research Database.

"The Ottawa Hospital is increasingly being recognized as one of Canada's top research and learning hospitals, and I think our success in this grant competition is one more illustration of that," said Dr. Duncan Stewart," executive-vice president of research at The Ottawa Hospital and professor of medicine at the University of Ottawa. "These research grants will help us develop and test new treatment and approaches for improving health, and the benefits will be felt not only by our patients at The Ottawa Hospital, but also around the world."

"I would like to thank the individuals and organizations who have supported our Tender Loving Research campaign," added Dr. Stewart. "Every dollar donated by the community allows us to bring in 10 more dollars in external funding, so our success in this grant competition is just as much due to the generosity of our community as it is to the calibre of our researchers."


Media Contact
Lois Ross
Senior Communications Specialist
Ottawa Hospital Research Institute
Office: 613-737-8899 x73687
Cell: 613-297-8315
loross@ohri.ca
About The Ottawa Hospital
The Ottawa Hospital is one of Canada's largest learning and research hospitals with over 1,100 beds, approximately 12,000 staff and an annual budget of over $1.2 billion. Our focus on research and learning helps us develop new and innovative ways to treat patients and improve care. As a multi-campus hospital, affiliated with the University of Ottawa, we deliver specialized care to the Eastern Ontario region, but our techniques and research discoveries are adopted around the world. We engage the community at all levels to support our vision for better patient care.
The University of Ottawa—A crossroads of cultures and ideas
The University of Ottawa is home to over 50,000 students, faculty and staff, who live, work and study in both French and English. Our campus is a crossroads of cultures and ideas, where bold minds come together to inspire game-changing ideas. We are one of Canada's top 10 research universities—our professors and researchers explore new approaches to today's challenges. One of a handful of Canadian universities ranked among the top 200 in the world, we attract exceptional thinkers and welcome diverse perspectives from across the globe.