Newsroom
Former nurse receives experimental viral therapy for cancer at The Ottawa Hospital
July 31, 2015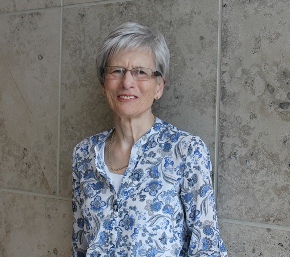 Christina Monker was one of the first patients in the world to receive an experimental viral therapy for cancer
On June 2, a team at The Ottawa Hospital infused 10 billion particles of a virus derived from Brazilian sandflies directly into Christina Monker's bloodstream. Monker, a former nurse from Rockland, Ontario, was participating in a clinical trial led by Dr. Derek Jonker to evaluate an experimental anti-cancer therapy.
"When Dr. Jonker asked me if I wanted to try a new viral therapy for cancer, I was very intrigued," said Monker, 75. "I was of course a bit nervous because he said this virus had never been tried in humans before, but I felt like this might be my last hope."
Monker had led a very healthy and active life until 2012, when she was diagnosed with anal cancer. Despite chemotherapy and radiation, the cancer spread to both her lungs.
"The nausea of chemotherapy was worse than I ever could have imagined, but with the viral therapy I just felt like I had the flu for a couple of days, and the symptoms were easily managed," said Monker. "It is too soon to know if I may have benefited from this therapy, but I'm very glad to contribute to this important research that could improve care for others."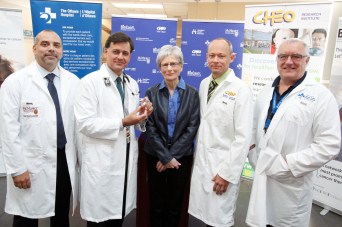 The experimental viral therapy was discovered and is being developed by a team of researchers including (from left to right) Drs. Brian Lichty, Derek Jonker, David Stojdl and John Bell
The idea of using viruses to treat cancer has been around for more than a century, with sporadic reports of cancer patients experiencing remarkable recoveries after viral infections. However, it is only in recent years that viral therapy has begun to be developed and tested in a rigorous way.
"The idea behind this trial is to use one virus to prime the patient's immune system to recognize their cancer, and then use a different virus to directly kill their cancer and further stimulate their immune system to prevent the cancer coming back," said Dr. John Bell, a senior scientist at The Ottawa Hospital and professor at the University of Ottawa. "The trial is the first in the world to evaluate this kind of double virus therapy to treat cancer."
"Clinical trials are where we ask people with cancer to try an experimental treatment, not yet knowing what the treatment might do," explained Dr. Jonker. "In my opinion, people like Christina, who participate in clinical trials, are heroes. These are people who have serious illnesses, sometimes incurable. And yet they are willing to partner with us doctors and scientists to try and make a breakthrough, not just for themselves, but also for other people like them."
For more information:

Media release: Cancer patients treated in world-first clinical trial of Canadian viral therapy

Information for cancer patients about oncolytic virus therapy
For further information, please contact
Jennifer Ganton
Director, Communications and Public Relations,
Ottawa Hospital Research Institute
Office: 613-798-5555 x 73325
Cell:613-614-5253
jganton@ohri.ca