Newsroom
Research reveals how cancer-fighting viruses infect tumour blood vessels
August 19, 2015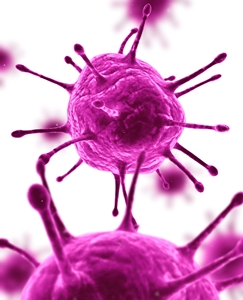 Researchers around the world are developing oncolytic viruses that preferentially replicate in and kill cancer cells, but laboratory and clinical studies have revealed that these viruses also replicate readily inside the "normal" cells that make up the blood vessels that feed tumours. How does this happen, and why aren't blood vessels in normal tissues also infected?

Researchers in Dr. John Bell's group at The Ottawa Hospital and the University of Ottawa, led by postdoctoral fellow Dr. Rozanne Arulanandam, recently discovered the answer. They found that a protein called VEGF, which is often produced by tumours to encourage new blood vessel growth, also causes blood vessel cells to produce a protein called PRD1-BF1, which shuts down their antiviral defenses. The blood vessels that feed tumours thus tend to be uniquely susceptible to viral infection.

Testing tumours for these proteins could help predict which people would be most likely to benefit from oncolytic virus therapy.

See Cancer Cell for details.

Co-authors: Batenchuk C, Angarita FA, Ottolino-Perry K, Cousineau S, Mottashed A, Burgess E, Falls T, De Silva N, Tsang J, Howe GA, Bourgeois-Daigneault MC, Conrad DP, Daneshmand M, Breitbach CJ, Kirn DH, Raptis L, Sad S, Atkins H, Huh MS, Diallo JS, Lichty BD, Ilkow CS, Le Boeuf F, Addison CL, McCart JA, Bell.

Funders: Terry Fox Foundation, Canadian Cancer Society, Ontario Institute for Cancer Research, Canadian Institute for Health Research, The Ottawa Hospital Foundation, Ottawa Regional Cancer Foundation, Mitacs, Natural Sciences and Engineering Research Council of Canada, Canadian Breast Cancer Foundation and Alberta Innovates Health Solutions.


About The Ottawa Hospital
The Ottawa Hospital is one of Canada's largest learning and research hospitals with over 1,100 beds, approximately 12,000 staff and an annual budget of over $1.2 billion. Our focus on research and learning helps us develop new and innovative ways to treat patients and improve care. As a multi-campus hospital, affiliated with the University of Ottawa, we deliver specialized care to the Eastern Ontario region, but our techniques and research discoveries are adopted around the world. We engage the community at all levels to support our vision for better patient care.
For further information, please contact
Lois Ross
Senior Communications Specialist
Ottawa Hospital Research Institute
Office: 613-737-8899 x73687
Cell: 613-297-8315
loross@ohri.ca