Newsroom
Landmark trial challenges aggressive feeding of patients
September 9, 2015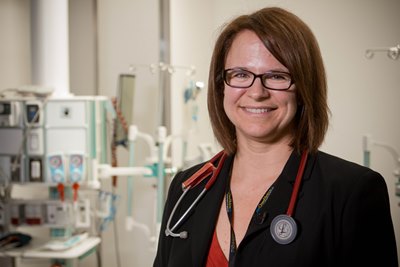 Drs. Gwynne Jones, Lauralyn McIntyre and colleagues participated in a landmark multi-centre clinical trial that challenged the premise that critically ill patients should receive the current standard high calorie diet. The results are published in the New England Journal of Medicine. Caloric requirements in critically ill adults are unclear. A high colorie diet was thought to help avoid metabolic changes and protein loss, leading to better outcomes. But, there is evidence to suggest that restricting or lowering calorie intake increases life span in several species. A previous small, randomized trial also suggested that clinical outcomes may be improved. The current study found that while a strategy of reducing calories by 40-60% of current requirements did not reduce the 90-day mortality rate, it also caused no harm. This study adds to a growing body of research suggesting that current high calorie feeding in critically ill patients does not improve outcomes. Further research is required in critically ill patients such as those with acute renal failure, septic shock and the malnourished to determine the best feeding strategies.

Co-authors: Arabi YM, Aldawood AS, Haddad SH, Al-Dorzi HM, Tamim HM, Mehta S, Solaiman O, Sakkijha MH, Sadat M, Afesh L; PermiT Trial Group.
Funders: King Abdullah International Medical Research Center, The Ottawa Hospital Foundation.


For further information, please contact
Lois Ross
Senior Communications Specialist
Ottawa Hospital Research Institute
Office: 613-737-8899 x73687
Cell: 613-297-8315
loross@ohri.ca