Newsroom
Ottawa researchers identify the Mike Holmes of muscle stem cells
January 27, 2016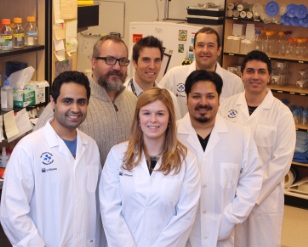 Over the last several years, Dr. Lynn Megeney and his team have discovered that muscle stem cells have a strange way of giving rise to new muscle fibres. They turn on scissor-like proteins that cut up other proteins and strands of DNA. Usually this would demolish the cell, but in this case, the cuts actually serve to "turn on" certain regions of DNA that are important for muscle development. The catch is that the DNA needs to be repaired very quickly, before it causes problems. Now, Dr. Megeney and his colleagues have identified the master repair man – the Mike Holmes of muscle stem cells. It is a protein called X-ray cross-complementing protein 1 (XRCC1), which is also known to repair some other kinds of DNA damage. This research adds an important piece to the puzzle of muscle regeneration, and could aid in the development of new therapies for degenerative muscle diseases such as Duchenne muscular dystrophy. See Nature Cell Discovery or the Kuwait Times for details.
Authors: M.H. Al-Khalaf, L.E. Blake, B.D. Larsen, R.A. Bell, S. Brunette, R.J. Parks, M.A. Rudnicki, P.J. McKinnon, F.J. Dilworth, L.A. Megeney.
Funders:Canadian Institutes of Health Research, International Regulome Consortium, Mach-Gaensslen Foundation.


About The Ottawa Hospital
The Ottawa Hospital is one of Canada's largest learning and research hospitals with over 1,100 beds, approximately 12,000 staff and an annual budget of over $1.2 billion. Our focus on research and learning helps us develop new and innovative ways to treat patients and improve care. As a multi-campus hospital, affiliated with the University of Ottawa, we deliver specialized care to the Eastern Ontario region, but our techniques and research discoveries are adopted around the world. We engage the community at all levels to support our vision for better patient care.
For further information, please contact
Jennifer Ganton
Director, Communications and Public Relations
Ottawa Hospital Research Institute
Office: 613-798-5555 x 73325
Cell: 613-614-5253
jganton@ohri.ca