Newsroom
$145,000 to help researchers investigate how the adult brain grows new cells
August 10, 2016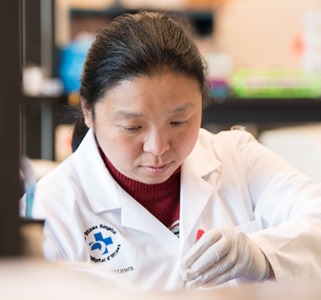 Dr. Jing Wang received $145K from the Natural Sciences and Engineering Research Council of Canada to investigate the molecular mechanisms that use environmental cues to give rise to new neurons in the adult brain. The part of the brain in charge of memory and navigation, called the hippocampus, contains one of the major zones where new neurons are generated in the adult brain. Researchers already know that exercise, aging, and physically or socially stimulating environments can affect the generation of new neurons in this zone. However, they do not know which mechanisms in the brain cause this to happen. Wang and her team will investigate how the previously-identified environmentally directed pathway affects the development of new neurons throughout adulthood.


The Ottawa Hospital: Inspired by research. Driven by compassion
The Ottawa Hospital is one of Canada's largest learning and research hospitals with over 1,100 beds, approximately 12,000 staff and an annual budget of over $1.2 billion. Our focus on research and learning helps us develop new and innovative ways to treat patients and improve care. As a multi-campus hospital, affiliated with the University of Ottawa, we deliver specialized care to the Eastern Ontario region, but our techniques and research discoveries are adopted around the world. We engage the community at all levels to support our vision for better patient care.
University of Ottawa
The University of Ottawa is home to over 50,000 students, faculty and staff, who live, work and study in both French and English. Our campus is a crossroads of cultures and ideas, where bold minds come together to inspire game-changing ideas. We are one of Canada's top 10 research universities—our professors and researchers explore new approaches to today's challenges. One of a handful of Canadian universities ranked among the top 200 in the world, we attract exceptional thinkers and welcome diverse perspectives from across the globe. www.uottawa.ca
For further information, please contact
Amelia Buchanan
Senior Communication Specialist
Ottawa Hospital Research Institute
Office: 613-798-5555 x 73687
Cell: 613-297-8315
ambuchanan@ohri.ca