Newsroom
Want to know how long you'll live? There's a calculator for that
September 29, 2016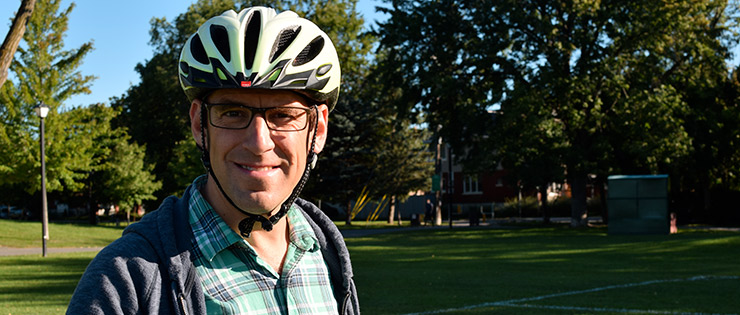 A creative tool by senior scientist Dr. Doug Manuel and his team helps show why public health research matters.

Calculators are great for dividing up restaurant bills, but what about one that estimates how long you're going to live? Dr. Doug Manuel'sresearch team has created an online calculator called Project Big Life that uses exercise, eating and smoking habits to determine a person's lifespan.

"We find it's a good way to engage people in research and health policy," said Dr. Manuel, a senior scientist at The Ottawa Hospital.

The calculator was added at the last minute to a 2012 report published by Dr. Manuel's team that found Ontarians' unhealthy habits were costing them an estimated seven years of life. The goal of the calculator was to show people the impact of this research, and it succeeded beyond the team's wildest dreams.

"The next thing you know we were on the front page of The Globe and Mail and our servers crashed," said Dr. Manuel. The calculator saw even more visits when the team published a follow-up study on Canadians' unhealthy habits this summer. Over 1 million people from 200 countries have used the calculators.

Dr. Manuel first became interested in public health while working as a family doctor in remote communities. He realized that he needed to address the underlying causes of his patients' diseases, like access to nutritional food, and being able to walk or bike in their community.

"I really felt that I could be working a lot longer as a doctor and everyone would still be a lot sicker," he said. "I decided that working in public health could bring more meaningful help to more people."

While the calculators can help individuals, Dr. Manuel's real vision is to provide governments and planners with tools to help them improve community health.

"We still don't have a lot of information about how public policy decisions affect people's health. That's the goal of our research," said Dr. Manuel, who is also a professor at the University of Ottawa.

Today, the calculator is used by some doctors and researchers and by the Heart and Stroke Foundation in its Risk Assessment tool.


The Ottawa Hospital: Inspired by research. Driven by compassion
The Ottawa Hospital is one of Canada's largest learning and research hospitals with over 1,100 beds, approximately 12,000 staff and an annual budget of over $1.2 billion. Our focus on research and learning helps us develop new and innovative ways to treat patients and improve care. As a multi-campus hospital, affiliated with the University of Ottawa, we deliver specialized care to the Eastern Ontario region, but our techniques and research discoveries are adopted around the world. We engage the community at all levels to support our vision for better patient care. See www.ohri.ca for more information about research at The Ottawa Hospital.
University of Ottawa
The University of Ottawa is home to over 50,000 students, faculty and staff, who live, work and study in both French and English. Our campus is a crossroads of cultures and ideas, where bold minds come together to inspire game-changing ideas. We are one of Canada's top 10 research universities—our professors and researchers explore new approaches to today's challenges. One of a handful of Canadian universities ranked among the top 200 in the world, we attract exceptional thinkers and welcome diverse perspectives from across the globe. www.uottawa.ca
For further information, please contact
Amelia Buchanan
Senior Communication Specialist
Ottawa Hospital Research Institute
Office: 613-798-5555 x 73687
Cell: 613-297-8315
ambuchanan@ohri.ca