Newsroom
Research helps The Ottawa Hospital provide world-class surgical care
July 24, 2017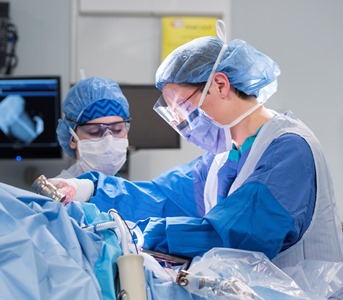 New research led by Drs. Daniel McIsaac and Alan Forster suggests that keeping some operating rooms free for emergency surgery could save both lives and money. Emergency surgeries are those needed quickly to treat serious injuries or life-threatening conditions, such as a hip fracture, appendicitis or a burst blood vessel.

The researchers spent the first three months of the study collecting data on the demand for emergency surgery at The Ottawa Hospital. In January 2013, the hospital began using a new method for scheduling emergency surgeries. This included dedicating operating room time specifically for emergency surgeries and spreading elective surgeries more evenly throughout the week. After the hospital implemented this new model, there was a significant increase in the number of emergency surgeries that happened on time.

"There was a massive improvement in patients getting to emergency surgeries on time with this new model," said Dr. Forster, Vice-President of Quality, Performance and Population Health and senior scientist at The Ottawa Hospital and professor at the University of Ottawa. "It might seem counterintuitive, but having unused time in expensive operating rooms could save both money and lives."

This study's findings justify these changes made by The Ottawa Hospital, and justify other health-care institutions focusing on the issue.

"Delaying surgery is never a good thing, but this is the first time we've really had the numbers to see what the impact is" said Dr. Forster "We will continue to work to optimize the system to better meet the needs of patients."

Dr. Forster's study was possible because of generous support from the community for Research to Improve Patient Care.

See media release for details.