Newsroom
Cancer-fighting viruses: Canadian team to accelerate research with $7.4 million from Terry Fox Research Institute
September 27, 2017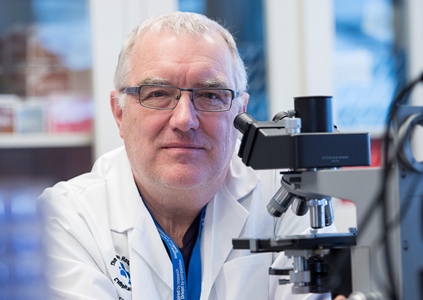 Imagine a tiny army of viruses entering a tumour, making thousands of copies of themselves and busting up cancer cells as they spread. Now imagine the body's immune system coming in to fight off the virus and eliminate the remaining cancer cells at the same time. This is the vision of Dr. John Bell at The Ottawa Hospital and the University of Ottawa, along with his colleagues in the Canadian Oncolytic Virus Consortium. The team was recently awarded $7.4 million from Terry Fox Research Institute to accelerate their work over the next five years.

"We've developed viruses that selectively grow in cancer cells, but don't infect normal tissues," said Dr. Bell. "Using this kind of approach we're hoping to avoid any damage to the patient, but at the same time have a very effective treatment."

Oncolytic (or cancer-fighting) viruses have shown promise in laboratory models of cancer as well as in clinical trials in patients, but they are not yet approved for general use in Canada. With this new funding, Dr. Bell and his colleagues will be able to advance our understanding of these viruses, develop strategies to make them even better and bring them closer to reality for patients. Their research will involve genetically modifying various oncolytic viruses and combining them with different drugs and cell-based therapies.

The consortium includes the following scientists:

• John Bell, Jean-Simon Diallo, Rebecca Auer, Harold Atkins an Guy Ungerechts from The Ottawa Hospital and the University of Ottawa

• Brian Lichty, Yonghong Wan, Karen Mossman and Jonathan Bramson from McMaster University

• David Stojdl and Tommy Alain from the Children's Hospital of Eastern Ontario and the University of Ottawa

• Nahum Sonenberg from McGill University

• Brad Nelson from the BC Cancer Agency

• Andrea McCart from the University Health Network

• Byram Bridle from the University of Guelph

This funding is part of the Terry Fox New Frontiers Program Project Grants. Dr. Bell is based at The Ottawa Hospital's Centre for Innovative Cancer Research, which opened in 2011 thanks to funding from the Canada Foundation for Innovation and generous support from the community for cancer research The Ottawa Hospital.

Please see our frequently asked questions about oncolytic virus therapy for more information.


The Ottawa Hospital: Inspired by research. Driven by compassion
The Ottawa Hospital is one of Canada's largest learning and research hospitals with over 1,100 beds, approximately 12,000 staff and an annual budget of over $1.2 billion. Our focus on research and learning helps us develop new and innovative ways to treat patients and improve care. As a multi-campus hospital, affiliated with the University of Ottawa, we deliver specialized care to the Eastern Ontario region, but our techniques and research discoveries are adopted around the world. We engage the community at all levels to support our vision for better patient care. See www.ohri.ca for more information about research at The Ottawa Hospital.
University of Ottawa: —A crossroads of cultures and ideas
The University of Ottawa is home to over 50,000 students, faculty and staff, who live, work and study in both French and English. Our campus is a crossroads of cultures and ideas, where bold minds come together to inspire game-changing ideas. We are one of Canada's top 10 research universities—our professors and researchers explore new approaches to today's challenges. One of a handful of Canadian universities ranked among the top 200 in the world, we attract exceptional thinkers and welcome diverse perspectives from across the globe. www.uottawa.ca
Media Contact
Jennifer Ganton
Director, Communications and Public Relations
Ottawa Hospital Research Institute
Office: 613-798-5555 x 73325
Cell: 613-614-5253
jganton@ohri.ca