Newsroom
Ottawa neuromuscular researchers show global leadership
September 27, 2017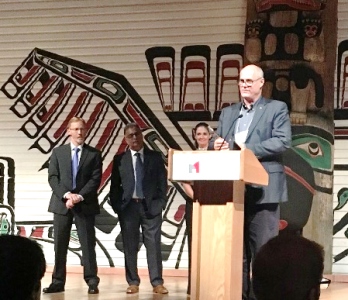 Neuromuscular researchers at The Ottawa Hospital, the University of Ottawa and CHEO shone on the global stage last weekend, during the 4th Ottawa International Conference on Neuromuscular Disease & Biology (Ottawa NMD 2017). The conference featured over 40 high-level talks by world-leaders in NMD research and clinical care, and was attended by 250 neuromuscular scientists, clinicians, postdoctoral fellows and graduate students from around the world. At the Gala Dinner, held at the Canadian Museum of History, Dr. Michael Rudnicki was awarded the "Dr. George Karpati Researcher of the Year Award" by Muscular Dystrophy Canada. Dr. Rudnicki received this award in recognition of his many years of outstanding research on muscle development and disease. The conference was co-chaired by Drs. Robin Parks, Jodi Warman Chardon, Bernard Jasmin and Rashmi Kothary. The conference website and registration system was developed by Mike Hendley (mhendley@ohri.ca) and the Ottawa Hospital Research Institute's Business Systems Integration team.


The Ottawa Hospital: Inspired by research. Driven by compassion
The Ottawa Hospital is one of Canada's largest learning and research hospitals with over 1,100 beds, approximately 12,000 staff and an annual budget of over $1.2 billion. Our focus on research and learning helps us develop new and innovative ways to treat patients and improve care. As a multi-campus hospital, affiliated with the University of Ottawa, we deliver specialized care to the Eastern Ontario region, but our techniques and research discoveries are adopted around the world. We engage the community at all levels to support our vision for better patient care. See www.ohri.ca for more information about research at The Ottawa Hospital.
University of Ottawa: —A crossroads of cultures and ideas
The University of Ottawa is home to over 50,000 students, faculty and staff, who live, work and study in both French and English. Our campus is a crossroads of cultures and ideas, where bold minds come together to inspire game-changing ideas. We are one of Canada's top 10 research universities—our professors and researchers explore new approaches to today's challenges. One of a handful of Canadian universities ranked among the top 200 in the world, we attract exceptional thinkers and welcome diverse perspectives from across the globe. www.uottawa.ca
Media Contact
Jennifer Ganton
Director, Communications and Public Relations
Ottawa Hospital Research Institute
Office: 613-798-5555 x 73325
Cell: 613-614-5253
jganton@ohri.ca