Newsroom
News Release
CFI provides $18-million boost to research on neuromuscular diseases, cancer-fighting viruses, the power of light and radioactive atoms
October 12, 2017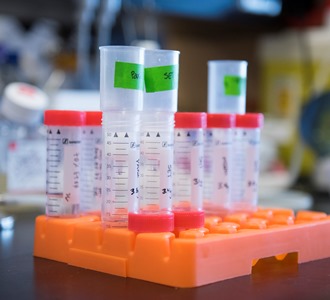 The Canada Foundation for Innovation (CFI) has awarded $18 million in funding to support cutting-edge research led by four teams from The Ottawa Hospital and the University of Ottawa.

"The innovation made possible by this infrastructure support for our researchers will be of direct benefit to Canadians' health and well-being," said Sylvain Charbonneau, interim vice-president, research. "I want to thank the CFI for their continued support and look forward to the exciting potential outcomes of the four projects."

The recipients are:

World-class hub for neuromuscular therapies

Dr. Rashmi Kothary, Faculty of Medicine and The Ottawa Hospital

Already home to one of the world's largest centres for neuromuscular disease research, The Ottawa Hospital and the University of Ottawa will now also house the Ottawa Muscle and Nerve Initiative.

This comprehensive global innovation hub will help researchers systematically develop and assess preclinical models of neuromuscular disease to accelerate the development of therapeutic interventions that can readily be translated to patients.

"Neuromuscular diseases represent a broad group of more than 150 genetic and acquired disorders, the majority of which cause disability and premature death through progressive muscle wasting," said Dr. Rashmi Kothary, who is leading this initiative with Dr. Bernard Jasmin, interim dean of the Faculty of Medicine. "This funding will help us build on recent breakthroughs in our understanding of neuromuscular diseases, design much-needed new therapies and evaluate them in patients."

Principal users: Jocelyn Côté, Derrick Gibbings, Bernard Jasmin, Robert Korneluk, Robin Parks, Michael Rudnicki, William Stanford, Leanne Ward, Jodi Warman Chardon.

Other users: Jean-Marc Renaud, Jeffrey Dilworth, Alex Mackenzie, Kym Boycott, Harold Atkins, Alexandre Blais, Marjorie Brand, Dennis Bulman, David Dyment, Martin Holcik, Caryn Ito, Qiao Li, Hugh McMillan, Lynn Megeney, Kier Menzies, Jean Michaud, Mona Nemer, Johnny Ngsee, Duncan Stewart, Nadine Wiper-Bergeron.

Cutting-edge consortium for virus-based therapies

Dr. John Bell, Faculty of Medicine and The Ottawa Hospital

Dr. John Bell will establish the Canadian Virus and Immunology Consortium (CVIC) to repurpose viruses to serve as platforms for the development of novel oncolytics (viruses that infect and kill cancer cells), anti-virals, vaccines and applied manufacturing research.

CVIC's commitment to advancing novel viroceuticals from discovery to human

clinical research will advance commercial development of a variety of treatments for human illnesses, including cancer and infectious diseases.

"While most people think of viruses as bugs that make us sick, they are also extremely powerful tools that can be harnessed to prevent and treat disease," said Dr. Bell. "Our goal is to establish Canada as a global leader in this field, from discovery to commercialization and manufacturing."

Principal Users: Harold Atkins, Jean-Simon Diallo, Roy Duncan, David Evans, Matthias Gotte, Scott Halperin, Tom Hobman, Jean Marshall, Craig McCormick

Other Users: Brad Nelson, Jeanette Boudreau, Andrew Makrigiannis, John Pezacki, David Stojdl, Brian Lichty, Mary Hitt, Patrick Lee, Ronald Moore, Maya Shmulevitz, Karen Mossman, Chris Richardson, Guy Ungerechts, Marceline Côté, Jennifer Corcoran, David Marchant, Lisa Barrett, Matthew Miller, Les Nagata, Brent Johnston

Harnessing the interaction of light and matter to improve mobile data processing

Dr. Muralee Murugesu, Faculty of Science

The key to addressing the challenge of a growing mobile era, with its staggering volumes of data and ever-increasing processing times, is to do more with less. To that end, innovations in faster and lower power electronics are needed.

In recent years, materials based on molecular (e.g. nanomagnets) or two-dimensional (e.g. graphene) systems have shown tremendous magnetic/conducting properties. If these properties can be triggered or harnessed through the application of a small amount of energy, i.e. light, it is possible to drastically cut the energy consumption related to data processing and storage.

"We're aiming to extract the full potential of light, and its interactions with matter," said chemistry professor Dr. Muralee Murugesu. "This Light Matter Interaction program looks at ways to reduce energy consumption related to the information and communication technology sector by leveraging the convergence of three materials-centric cornerstones: magnetics, optics and photonics, and electronics."

An upgraded accelerator mass spectrometer for safer nuclear waste disposal

Dr. Jack Cornett, Faculty of Science

Canada's only accelerator mass spectrometer, housed at the University of Ottawa's Advanced Research Centre, will receive a $3.8-million upgrade to improve its ability to measure rare radioactive atoms.

These atoms are useful for a diversity of applications in biomedical, Earth, environmental, and materials science : examples range from determining the amount of oil contamination in groundwater to identifying the early stages of diseases such as osteoporosis.

"Besides our contributions to Canada's health and environmental issues, our new techniques will be used by Canada and other members of the international nuclear weapons verification treaty community to identify covert nuclear weapons development," said Earth sciences professor Dr. Jack Cornett. "Our research has already contributed centrally to the approval of Canada's first low and intermediate nuclear waste repository site and this upgrade will be critical to our research for the current challenge for high-level nuclear waste."

CFI has also awarded these four projects an additional $5.5 million to help support the operation and maintenance of the funded infrastructure.


The Ottawa Hospital: Inspired by research. Driven by compassion
The Ottawa Hospital is one of Canada's largest learning and research hospitals with over 1,100 beds, approximately 12,000 staff and an annual budget of over $1.2 billion. Our focus on research and learning helps us develop new and innovative ways to treat patients and improve care. As a multi-campus hospital, affiliated with the University of Ottawa, we deliver specialized care to the Eastern Ontario region, but our techniques and research discoveries are adopted around the world. We engage the community at all levels to support our vision for better patient care. See www.ohri.ca for more information about research at The Ottawa Hospital.
University of Ottawa: —A crossroads of cultures and ideas
The University of Ottawa is home to over 50,000 students, faculty and staff, who live, work and study in both French and English. Our campus is a crossroads of cultures and ideas, where bold minds come together to inspire game-changing ideas. We are one of Canada's top 10 research universities—our professors and researchers explore new approaches to today's challenges. One of a handful of Canadian universities ranked among the top 200 in the world, we attract exceptional thinkers and welcome diverse perspectives from across the globe. www.uottawa.ca
Media Contact
Jennifer Ganton
Director, Communications and Public Relations
Ottawa Hospital Research Institute
Office: 613-798-5555 x 73325
Cell: 613-614-5253
jganton@ohri.ca
Néomie Duval
Manager, Media Relations
The University of Ottawa
Cell: 613-240-0275
neomie.duval@uOttawa.ca