Newsroom
Stem cells for septic shock: world-first trial establishes safety, sets stage for larger trial
November 2, 2017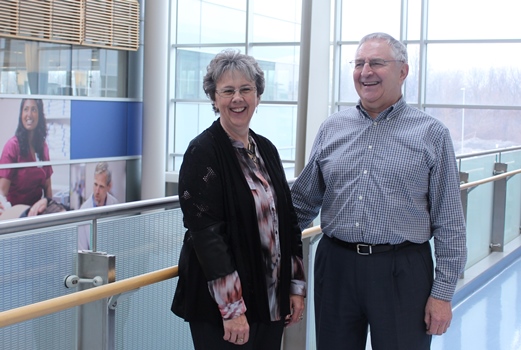 Stem cells are usually thought of as the building blocks of the body – able to give rise to all our cells and organs. But Dr. Lauralyn McIntyre, Dr. Duncan Stewart, Dr. Dean Fergusson and their colleagues are testing the idea that certain stem cells may also be able to help control the body's immune system to reduce injury and promote healing, while improving its ability to fight infection.

They recently published the results of the world's first clinical trial of mesenchymal stem cell therapy for septic shock, a life-threatening condition that can occur when an infection spreads throughout the body. The trial involved thirty patients, nine of whom were treated with up to 250 million mesenchymal stem cells. No serious adverse events occurred. A randomized, multi-site trial is expected to start next year, with the power to evaluate benefits as well as risks.

Charles Berniqué, a 73-year-old grandfather from Hawkesbury, Ontario, recently survived a deadly infection requiring prolonged intensive care and returned to his family and work after participating in this world-first trial.

"It is tremendous what The Ottawa Hospital did for me," said Berniqué. "I was so close to death, but I received the best care in the world and got to participate in this study which could help many people."

Berniqué developed an infection in June 2015 after his esophagus burst, possibly due to a severe case of food poisoning. This led to severe septic shock, a deadly condition that occurs when an uncontrolled infection results in hyper-activation of the immune system, causing the cardiovascular system and other organs to fail. Thoracic surgeons at The Ottawa Hospital provided fluid resuscitation, repaired his esophagus and initiated antibiotic therapy. He was placed into a coma in the intensive care unit (ICU), receiving medications, mechanical ventilation and dialysis to support his heart, lungs and kidneys.

It was during this time that his wife, Maureen, consented to his participation in the clinical trial.

"I just wanted to do whatever I could to help him," she said.

Within 24 hours, Berniqué received an intravenous infusion of 30 million mesenchymal stem cells, grown in a special facility at The Ottawa Hospital. The stem cells were originally extracted from the bone marrow of a healthy Ottawa volunteer.

In the end, Berniqué battled back, and despite a number of complications from the massive infection, he slowly recovered. After nearly three months at The Ottawa Hospital, he is now back home in Hawkesbury, spending time with his wife, children and grandchildren and working part-time.

See the American Journal of Respiratory and Critical Care Medicine for details.

Authors: McIntyre LA, Stewart DJ, Mei SH, Courtman D, Watpool I, Granton J, Marshall J, Dos Santos C, Walley KR, Winston BW, Schlosser K, Fergusson DA; Canadian Critical Care Trials Group and the Canadian Critical Care Translational Biology Group.

Funders and partners: The Phase I trial was funded by the Canadian Institutes of Health Research and the Stem Cell Network, with additional support from the community for Regenerative Medicine Research at The Ottawa Hospital. The Stem Cell Network, the Ontario Institute for Regenerative Medicine and the Canadian Institutes of Health Research are providing funding to prepare for the Phase II trial. Other partners include the Canadian Critical Care Trials Group and Canadian Blood Services.


The Ottawa Hospital: Inspired by research. Driven by compassion
The Ottawa Hospital is one of Canada's largest learning and research hospitals with over 1,100 beds, approximately 12,000 staff and an annual budget of over $1.2 billion. Our focus on research and learning helps us develop new and innovative ways to treat patients and improve care. As a multi-campus hospital, affiliated with the University of Ottawa, we deliver specialized care to the Eastern Ontario region, but our techniques and research discoveries are adopted around the world. We engage the community at all levels to support our vision for better patient care. See www.ohri.ca for more information about research at The Ottawa Hospital.
University of Ottawa: —A crossroads of cultures and ideas
The University of Ottawa is home to over 50,000 students, faculty and staff, who live, work and study in both French and English. Our campus is a crossroads of cultures and ideas, where bold minds come together to inspire game-changing ideas. We are one of Canada's top 10 research universities—our professors and researchers explore new approaches to today's challenges. One of a handful of Canadian universities ranked among the top 200 in the world, we attract exceptional thinkers and welcome diverse perspectives from across the globe. www.uottawa.ca
Media Contact
Jennifer Ganton
Director, Communications and Public Relations
Ottawa Hospital Research Institute
Office: 613-798-5555 x 73325
Cell: 613-614-5253
jganton@ohri.ca