Newsroom
Blood transfusions in heart surgery: global study sets new standard
December 6, 2017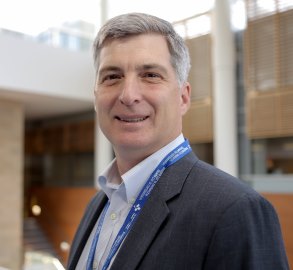 A study co-led by Dr. Dean Fergusson found that using lower hemoglobin thresholds to transfuse red blood cells during and after heart surgery is just as safe as using traditional thresholds. Hemoglobin is a protein that delivers oxygen to the body's tissues. Some physicians give blood transfusions during or after surgery to keep a patient's hemoglobin levels from falling, while others wait to see if the hemoglobin levels remain stable. In the study published in the New England Journal of Medicine, over 5,200 heart surgery patients were randomized to receive transfusions based on either a lower or higher hemoglobin threshold. There was no significant difference in the outcomes of these two groups after surgery. The lower threshold also reduced the number of patients who received transfusions by 28 percent. This could help reduce the amount of blood transfused and related health-care costs. See news release from St. Michael's Hospital for more.

Co-authors: Mazer CD, Whitlock RP, Fergusson DA, Hall J, Belley-Cote E, Connolly K, Khanykin B, Gregory AJ, de Médicis É, McGuinness S, Royse A, Carrier FM, Young PJ, Villar JC, Grocott HP, Seeberger MD, Fremes S, Lellouche F, Syed S, Byrne K, Bagshaw SM, Hwang NC, Mehta C, Painter TW, Royse C, Verma S, Hare GMT, Cohen A, Thorpe KE, Jüni P, Shehata N; TRICS Investigators and Perioperative Anesthesia Clinical Trials Group.

Funders: All research at The Ottawa Hospital is supported by generous donations to the hospital. This study was also supported by the Canadian Institutes of Health Research, the Health Research Council of New Zealand, and the Australian Government – National Health and Medical Research Council.


The Ottawa Hospital: Inspired by research. Driven by compassion
The Ottawa Hospital is one of Canada's largest learning and research hospitals with over 1,100 beds, approximately 12,000 staff and an annual budget of over $1.2 billion. Our focus on research and learning helps us develop new and innovative ways to treat patients and improve care. As a multi-campus hospital, affiliated with the University of Ottawa, we deliver specialized care to the Eastern Ontario region, but our techniques and research discoveries are adopted around the world. We engage the community at all levels to support our vision for better patient care. See www.ohri.ca for more information about research at The Ottawa Hospital.
University of Ottawa: —A crossroads of cultures and ideas
The University of Ottawa is home to over 50,000 students, faculty and staff, who live, work and study in both French and English. Our campus is a crossroads of cultures and ideas, where bold minds come together to inspire game-changing ideas. We are one of Canada's top 10 research universities—our professors and researchers explore new approaches to today's challenges. One of a handful of Canadian universities ranked among the top 200 in the world, we attract exceptional thinkers and welcome diverse perspectives from across the globe. www.uottawa.ca
Media Contact
Amelia Buchanan
Senior Communication Specialist
Ottawa Hospital Research Institute
Office: 613-798-5555 x 73687
Cell: 613-297-8315
ambuchanan@ohri.ca