Newsroom
Researchers to test patient-centered approach to Parkinson's care
December 15, 2017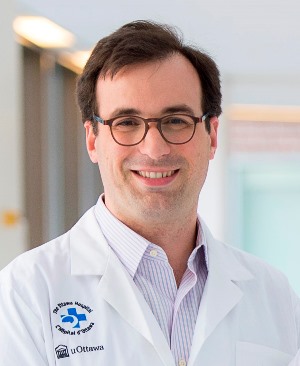 Dr. Tiago Mestre has received a $197,000 New Investigator Award from the Physicians' Services Incorporated Foundation to test a new model of care for people living with Parkinson's disease. This project, called the Integrated Parkinson's Care Network, was developed in collaboration with Dr. David Grimes. People with Parkinson's disease often need to be seen by a wide range of professionals both in the hospital and the community, and often this care is not well coordinated. The doctors and their colleagues will implement and test a model that puts patients in charge of managing their condition and delivers care in one location. Patients will be paired with an easily-accessible expert nurse in a one-stop shop for people with Parkinson's. This model has the potential to greatly improve patient care with little cost to the system by breaking down silos across Ontario's health system. It will be tested and refined at The Ottawa Hospital's Parkinson disease and Movement Disorders clinic, and may be introduced to multiple sites across Ontario and Canada in the future.

"We believe that this patient-centered model can improve quality of life for the 100,000 Canadians living with Parkinson's disease," said Dr. Mestre.

This research is also supported by generous donors to The Ottawa Hospital and the University of Ottawa Brain and Mind Research Institute.

Co-Investigators, Collaborators and Advisors: Monica Taljaard, Clare Liddy, Dorothy Kessler, Kednapa Thavorn, Diane Cote, as well as a patient and caregiver advisory board.


The Ottawa Hospital: Inspired by research. Driven by compassion
The Ottawa Hospital is one of Canada's largest learning and research hospitals with over 1,100 beds, approximately 12,000 staff and an annual budget of over $1.2 billion. Our focus on research and learning helps us develop new and innovative ways to treat patients and improve care. As a multi-campus hospital, affiliated with the University of Ottawa, we deliver specialized care to the Eastern Ontario region, but our techniques and research discoveries are adopted around the world. We engage the community at all levels to support our vision for better patient care. See www.ohri.ca for more information about research at The Ottawa Hospital.
University of Ottawa: —A crossroads of cultures and ideas
The University of Ottawa is home to over 50,000 students, faculty and staff, who live, work and study in both French and English. Our campus is a crossroads of cultures and ideas, where bold minds come together to inspire game-changing ideas. We are one of Canada's top 10 research universities—our professors and researchers explore new approaches to today's challenges. One of a handful of Canadian universities ranked among the top 200 in the world, we attract exceptional thinkers and welcome diverse perspectives from across the globe. www.uottawa.ca
Media Contact
Amelia Buchanan
Senior Communication Specialist
Ottawa Hospital Research Institute
Office: 613-798-5555 x 73687
Cell: 613-297-8315
ambuchanan@ohri.ca