Regenerative Medicine Program
Overview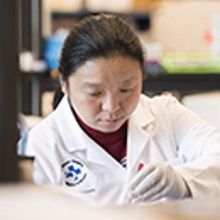 Regenerative medicine is an emerging field of medicine focused on repairing and replacing damaged cells and tissues. Often, this involves harnessing the power of stem cells which can renew themselves and differentiate into many other cell types. Some regenerative therapies are already being used in the clinic today, and as our understanding of stem cells advances, it is becoming clear that this field has the potential to transform medicine and provide treatments for some of the world's most devastating diseases.
The OHRI is becoming a major centre for this growing area of research, with 11 core scientists in the Regenerative Medicine Program and another 25 scientists and investigators conducting research in this area. The Regenerative Medicine Program encompasses basic sciences such as stem cell biology, molecular genetics and molecular biology, and applied sciences such as transplantation and tissue engineering. Particular research interests include:
Identification and characterization of stem cells in adult tissues such as muscle, heart, brain, eye, pancreas, kidney, skin and blood.
Genomic and proteomic analysis of stem cells (including the development of StemBase, the largest stem cell gene expression database in the world).
Development of therapies to repair blood vessels that have been damaged by cardiovascular diseases such as pulmonary hypertension.
Development of techniques to improve gene and cell therapy.
Investigation of the molecular biology of diseases that may be amenable to regenerative therapies, such as Duchenne muscular dystrophy.
Development of novel bone marrow stem cell transplant therapies for auto-immune disorders such as multiple sclerosis.
Investigation of the role of stem cells in the development and treatment of cancer.
Development of novel approaches to simulate spinal cord regeneration.
Investigation of the regenerative abilities of animals such as newts that can re-grow complex body parts.
Development of biosynthetic corneas that promote corneal and nerve cell regeneration.
Identification of genetic factors that control the development and differentiation of mouse embryonic stem cells.
The OHRI Regenerative Medicine Program is headquartered at the new Sprott Centre for Stem Cell Research and is led by Dr. Michael Rudnicki (who also leads Canada's Stem Cell Network and the International Regulome Consortium).