Newsroom
Newborn sepsis: Could routinely collected blood spots help with early detection?
January 19, 2018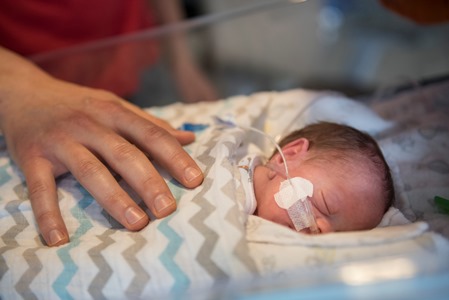 Sepsis is a major cause of death and illness in newborns worldwide. It occurs when an infection spreads throughout the body and enters the bloodstream. A study led by Drs. Deshayne Fell, Steven Hawken, and Kumanan Wilson found that blood spots routinely collected from all newborns may have the potential to help identify infants at risk of sepsis. The team linked newborn screening data with health databases to identify cases of sepsis among Ontario newborns between 2010 and 2015. Their findings suggest that sepsis is associated with certain factors already measured in blood spots, as well as with clinical variables, particularly among infants born at term or late preterm gestation. This novel approach may contribute to development of a test for the early diagnosis of newborn sepsis. See Nature's Scientific Reports for details.

Authors: Deshayne B. Fell, Steven Hawken, Coralie A. Wong, Lindsay A. Wilson, Malia S.Q. Murphy, Pranesh Chakraborty, Thierry Lacaze-Masmonteil, Beth K. Potter, Kumanan Wilson

Acknowledgements: Research at The Ottawa Hospital is supported by generous donations to Research to Improve Patient Care. This study was also supported the Bill & Melinda Gates Foundation [OPP1141535]. Researchers from The Ottawa Hospital, the University of Ottawa, CHEO and the Institute for Clinical and Evaluative Sciences.


The Ottawa Hospital: Inspired by research. Driven by compassion
The Ottawa Hospital is one of Canada's largest learning and research hospitals with over 1,100 beds, approximately 12,000 staff and an annual budget of over $1.2 billion. Our focus on research and learning helps us develop new and innovative ways to treat patients and improve care. As a multi-campus hospital, affiliated with the University of Ottawa, we deliver specialized care to the Eastern Ontario region, but our techniques and research discoveries are adopted around the world. We engage the community at all levels to support our vision for better patient care. See www.ohri.ca for more information about research at The Ottawa Hospital.
University of Ottawa: —A crossroads of cultures and ideas
The University of Ottawa is home to over 50,000 students, faculty and staff, who live, work and study in both French and English. Our campus is a crossroads of cultures and ideas, where bold minds come together to inspire game-changing ideas. We are one of Canada's top 10 research universities—our professors and researchers explore new approaches to today's challenges. One of a handful of Canadian universities ranked among the top 200 in the world, we attract exceptional thinkers and welcome diverse perspectives from across the globe. www.uottawa.ca
Media Contact
Jennifer Ganton
Director, Communications and Public Relations
Ottawa Hospital Research Institute
Office: 613-798-5555 x 73325
Cell: 613-614-5253
jganton@ohri.ca