Newsroom
Electromagnetic field therapy improves survival in brain cancer patients
January 19, 2018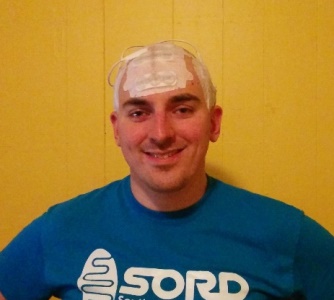 A JAMA study co-authored by Dr. Garth Nicholas shows that a wearable device that transmits low-intensity electrical fields into the brain can prolong survival in people with a highly aggressive form of brain cancer. The randomized trial included nearly 700 patients around the world. The study confirms the previously published interim results, showing people who received electrical field therapy in addition to chemotherapy survived for 20.9 months compared to 16.0 months for those who received the chemotherapy alone.

Dr. Nicholas, who led the Canadian arm of the trial, told CTV National: "It is not a cure or as dramatic breakthrough that we would like, but it certainly can improve things for selected patients."

CTV also interviewed a trial participant from The Ottawa Hospital (pictured at left), who said "For a while I was living day to day … and then eventually it went week to week, eventually it went to month to month. For the first time in a long time, I am looking year to year."

The Ottawa Citizen also covered the story.

The device is not yet available in Canada. People who are interested in experimental therapies for brain cancer should speak with their cancer specialist.

Authors: Stupp R, Taillibert S, Kanner A, Read W, Steinberg DM, Lhermitte B, Toms S, Idbaih A, Ahluwalia MS, Fink K, Di Meco F, Lieberman F, Zhu JJ, Stragliotto G, Tran DD, Brem S, Hottinger AF, Kirson ED, Lavy-Shahaf G, Weinberg U, Kim CY, Paek SH, Nicholas G, Burna J, Hirte H, Weller M, Palti Y, Hegi ME, Ram Z.

Funders: This study was funded by Novocure. Cancer research at The Ottawa Hospital is also possible because of generous support from the community for the hospital.


The Ottawa Hospital: Inspired by research. Driven by compassion
The Ottawa Hospital is one of Canada's largest learning and research hospitals with over 1,100 beds, approximately 12,000 staff and an annual budget of over $1.2 billion. Our focus on research and learning helps us develop new and innovative ways to treat patients and improve care. As a multi-campus hospital, affiliated with the University of Ottawa, we deliver specialized care to the Eastern Ontario region, but our techniques and research discoveries are adopted around the world. We engage the community at all levels to support our vision for better patient care. See www.ohri.ca for more information about research at The Ottawa Hospital.
University of Ottawa: —A crossroads of cultures and ideas
The University of Ottawa is home to over 50,000 students, faculty and staff, who live, work and study in both French and English. Our campus is a crossroads of cultures and ideas, where bold minds come together to inspire game-changing ideas. We are one of Canada's top 10 research universities—our professors and researchers explore new approaches to today's challenges. One of a handful of Canadian universities ranked among the top 200 in the world, we attract exceptional thinkers and welcome diverse perspectives from across the globe. www.uottawa.ca
Media Contact
Jennifer Ganton
Director, Communications and Public Relations
Ottawa Hospital Research Institute
Office: 613-798-5555 x 73325
Cell: 613-614-5253
jganton@ohri.ca