Newsroom
Weight gained in first half of pregnancy affects baby's birth weight the most
February 26, 2018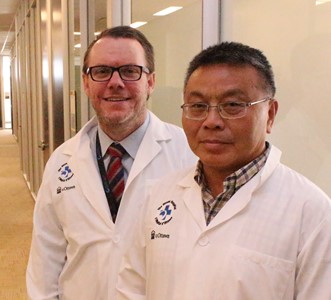 A baby's birth weight is strongly linked to how much weight their mother gained during the first half of her pregnancy, according to a study led by Drs Shi Wu Wen and Ravi Retnakaran with Dr. Mark Walker. This is important because babies with a very low or high birth weight are at greater risk of complications. This study published in JAMA Pediatrics is the first to show that the timing of weight gain during pregnancy is crucial. The research team weighed 1164 women in Liuyang, China before pregnancy and at 10 points during their pregnancy. They found that pre-pregnancy weight and weight gain over the first 18 weeks of pregnancy were strongly linked with infant birth weight, but weight gained in the second half of pregnancy was not. Other studies are needed to confirm these findings. Women planning on getting pregnant should consult Health Canada's Pregnancy Weight Gain Calculator and speak with a healthcare provider about how much weight they should gain during pregnancy.

Authors: Ravi Retnakaran, Shi Wu Wen, Hongzhuan Tan, Shujin Zhou, Chang Ye, Minxue Shen, Graeme N. Smith, Mark C.Walker.

Funding: This research was possible because of generous donations to The Ottawa Hospital for Research to Improve Patient Care. The researchers have also received support from Canadian Institutes of Health Research, Natural Science Foundation of China, and the Heart and Stroke Foundation of Ontario.


The Ottawa Hospital: Inspired by research. Driven by compassion
The Ottawa Hospital is one of Canada's largest learning and research hospitals with over 1,100 beds, approximately 12,000 staff and an annual budget of over $1.2 billion. Our focus on research and learning helps us develop new and innovative ways to treat patients and improve care. As a multi-campus hospital, affiliated with the University of Ottawa, we deliver specialized care to the Eastern Ontario region, but our techniques and research discoveries are adopted around the world. We engage the community at all levels to support our vision for better patient care. See www.ohri.ca for more information about research at The Ottawa Hospital.
University of Ottawa: —A crossroads of cultures and ideas
The University of Ottawa is home to over 50,000 students, faculty and staff, who live, work and study in both French and English. Our campus is a crossroads of cultures and ideas, where bold minds come together to inspire game-changing ideas. We are one of Canada's top 10 research universities—our professors and researchers explore new approaches to today's challenges. One of a handful of Canadian universities ranked among the top 200 in the world, we attract exceptional thinkers and welcome diverse perspectives from across the globe. www.uottawa.ca
Media Contact
Amelia Buchanan
Senior Communication Specialist
Ottawa Hospital Research Institute
Office: 613-798-5555 x 73687
Cell: 613-297-8315
ambuchanan@ohri.ca