Newsroom
Exosomes open up exciting new avenue of leukemia research
April 11, 2018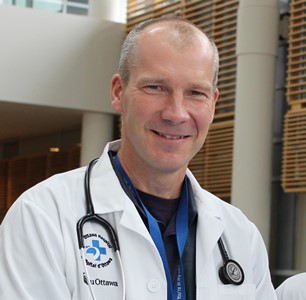 When exosomes were first discovered more than 30 years ago, most scientists thought they were useless bags of waste released by our cells. But in recent years, researchers have realized that exosomes may be able to help us understand, diagnose and treat a variety of diseases. A new study led by Drs. David Allan and Yevgeniya Le shows the potential of exosome research for acute myeloid leukemia (AML), a kind of cancer that starts in the bone marrow. They identified small RNA signals in exosomes released by certain "normal" supporting cells in the bone marrow that could actually help leukemia cells grow. Using samples from patients at The Ottawa Hospital as well as publicly available gene expression databases, they explored how five of these RNA factors could play a role in leukemia. If confirmed in other studies, these factors could be used as targets to develop new therapies. See Stem Cell Reviews and Reports for details.

Authors: Barrera-Ramirez J, Lavoie JR, Maganti HB, Stanford WL, Ito C, Sabloff M, Brand M, Rosu-Myles M, Le Y, Allan DS.

Funders: This study received no dedicated funding, but researchers at The Ottawa Hospital are supported by generous donations to the hospital.


The Ottawa Hospital: Inspired by research. Driven by compassion
The Ottawa Hospital is one of Canada's largest learning and research hospitals with over 1,100 beds, approximately 12,000 staff and an annual budget of over $1.2 billion. Our focus on research and learning helps us develop new and innovative ways to treat patients and improve care. As a multi-campus hospital, affiliated with the University of Ottawa, we deliver specialized care to the Eastern Ontario region, but our techniques and research discoveries are adopted around the world. We engage the community at all levels to support our vision for better patient care. See www.ohri.ca for more information about research at The Ottawa Hospital.
University of Ottawa: —A crossroads of cultures and ideas
The University of Ottawa is home to over 50,000 students, faculty and staff, who live, work and study in both French and English. Our campus is a crossroads of cultures and ideas, where bold minds come together to inspire game-changing ideas. We are one of Canada's top 10 research universities—our professors and researchers explore new approaches to today's challenges. One of a handful of Canadian universities ranked among the top 200 in the world, we attract exceptional thinkers and welcome diverse perspectives from across the globe. www.uottawa.ca
Media Contact
Jennifer Ganton
Director, Communications and Public Relations
Ottawa Hospital Research Institute
Office: 613-798-5555 x 73325
Cell: 613-614-5253
jganton@ohri.ca