Newsroom
News Release
Ottawa Hospital Research Institute and CHEO Research Institute open new research centre dedicated to improving health and patient care
December 14, 2011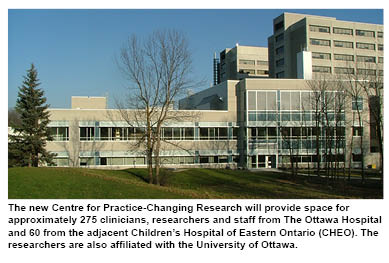 Medical research often happens in small steps, but a new facility at The Ottawa Hospital is designed to enable researchers to answer the big questions that can truly change medical practice and make a difference for patients. Called the Centre for Practice-Changing Research, the new two-storey building will provide space for approximately 275 clinicians, researchers and staff from The Ottawa Hospital and 60 from the adjacent Children's Hospital of Eastern Ontario (CHEO). The researchers are also affiliated with the University of Ottawa (uOttawa) and the building is connected to all three institutions at the Smyth Road academic health sciences centre.

"The Centre for Practice-Changing Research will enable clinicians and researchers at The Ottawa Hospital, CHEO and the University of Ottawa to work together to design clinical studies that can answer the most pressing questions we have about how best to provide health care," said Dr. Duncan Stewart, CEO and Scientific Director of the Ottawa Hospital Research Institute (OHRI), Vice-President of Research at The Ottawa Hospital and Professor of Medicine at uOttawa. "This kind of independent, academic research is essential for improving patient care and increasing efficiency at The Ottawa Hospital and CHEO, as well as at other hospitals across the country."

The new Centre will house clinicians and researchers working in areas such as pregnancy and newborn health, kidney disease, lung disease, infectious disease, cardiovascular disease and blood diseases. It will also house experts who can help design and administer clinical trials, analyze data, disseminate results, promote health-care changes and ensure that patient privacy is protected. Previously, many of these individuals were scattered in sub-standard locations throughout the hospital campus, including in a portable. By bringing them together, the new Centre will serve as a hub for clinical research and for research support services that will be available to clinicians throughout The Ottawa Hospital and CHEO.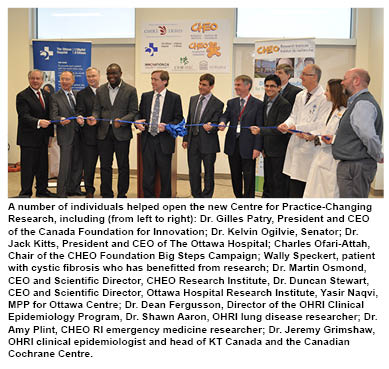 "The new Centre for Practice-Changing Research will play a key role, not only in enhancing patient care and innovation and CHEO and The Ottawa Hospital, but also in helping us recruit and retain the best and brightest clinicians, many of whom want to conduct independent research," said Dr. Martin Osmond, CEO and Scientific Director of CHEO Research Institute (CHEO RI), Vice-President of Research at CHEO and Professor of Pediatrics at uOttawa. "It is exciting that our best clinical researchers will now be located side-by-side in this environment which promotes collaboration, innovation and excellence in research aimed at improving patient outcomes."

OHRI, CHEO and uOttawa already have a strong track record of conducting high-quality clinical research and applying that research to benefit patients. Examples include:

Dr. Dean Fergusson and Dr. Paul Hébert (OHRI, uOttawa), designed and led the first clinical trial to rigorously compare three anti-bleeding drugs commonly used in high-risk heart surgery. The trial found that the most expensive drug, aprotinin, was actually the least safe (associated 50 per cent higher death rate). The study changed medical practice around the world virtually overnight and has likely saved thousands of lives and millions of health-care dollars.

Dr. Denise Harrison (CHEO RI, uOttawa) led the first clinical trial to rigorously compare a sugar solution to plain water for pain relief during blood tests for sick babies in hospital. The trial showed that sugar dramatically helped reduce pain, and this is now considered the standard of care in many hospital neonatal units.

Dr. Dawn Stacey and her colleagues (OHRI, uOttawa) have helped develop interactive tools to guide patients making difficult decisions around treatments for severe arthritis, prostate cancer, cystic fibrosis and other conditions. In general, these tools, called patient decision aids, have been shown to contribute to more informed decisions, and in some cases they can reduce the use of unnecessary medical procedures.
Construction of the Centre for Practice-Changing Research was initiated thanks to a $12.2M grant from the Canada Foundation for Innovation (CFI) and the Canadian Institutes of Health Research (CIHR) through the Research Hospital Fund (Clinical Research Initiative). This grant provided $2.4M for new facilities and $9.8M for operations for Knowledge Translation Canada, a national network led by Dr. Jeremy Grimshaw of OHRI and uOttawa. The network, which is now headquartered in the Centre for Practice-Changing Research, is dedicated to translating research evidence into changes in clinical practice. Approximately $1.1M from the Canada Foundation for Innovation directly supported construction of the Centre for Practice-Changing Research. The Ottawa Hospital contributed an additional $20.5M towards the new building, while the CHEO Foundation provided $2.4M, for a total cost of $24M. This investment is expected to help bring in up to $100M in external peer-reviewed research funding to The Ottawa Hospital and CHEO over the next five years.
About the Ottawa Hospital Research Institute
The Ottawa Hospital Research Institute (OHRI) is the research arm of The Ottawa Hospital and is an affiliated institute of the University of Ottawa, closely associated with the University's Faculties of Medicine and Health Sciences. The OHRI includes more than 1,500 scientists, clinical investigators, graduate students, postdoctoral fellows and staff conducting research to improve the understanding, prevention, diagnosis and treatment of human disease. www.ohri.ca
About CHEO Research Institute
Established in 1984, the CHEO Research Institute coordinates the research activities of the Children's Hospital of Eastern Ontario (CHEO) and is one of the institutes associated with the University of Ottawa Teaching Hospitals. The Research Institute brings together health professionals from within CHEO to share their efforts in solving paediatric health problems. It also promotes collaborative research outside the hospital with partners from the immediate community, industry and the international scientific world. www.cheori.org
Media contacts
Jennifer Paterson, Director, Communications and Public Relations, OHRI
613-798-5555 ext. 73325; 613-614-5253 (cell); jpaterson@ohri.ca
Adrienne Vienneau, Director, Communications and Public Relations, CHEO RI
613-737-7600 ext. 4144; 613-513-8437 (cell); avienneau@cheo.on.ca