Newsroom
News Release
Top stem cell scientist and pediatrician recruited to Ottawa
May 30, 2012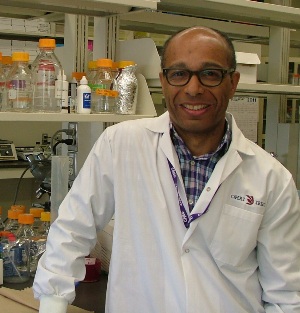 World-renowned scientist and pediatrician Dr. Bernard Thébaud will soon be in Ottawa to pursue his goal of using stem cells to repair the lungs of premature babies. Dr. Thébaud was recruited by the Ottawa Hospital Research Institute (OHRI), the Children's Hospital of Eastern Ontario Research Institute (CHEO RI) and the University of Ottawa (uOttawa) to bring his expertise in regenerative medicine to Ottawa.

"Ottawa is a great environment to thrive because the research community here is outstanding and there is a strong track record of translating basic molecular discoveries into new therapies for patients," said Dr. Thébaud. "Working with great collaborators in world-class facilities like Sprott Centre for Stem Cell Research will hopefully help us launch a clinical trial of stem cell therapy in premature babies within the next few years. Our trial would be the first of its kind in the world."

Originally from France, Dr. Thébaud has spent the last decade in Alberta, where he led a team of researchers working to develop novel stem cell treatment strategies for children with lung diseases. Premature babies are a major focus of his research, as half of all babies born before 28 weeks suffer long-term lung damage. Dr. Thébaud gained international attention after publishing promising results in a rat model of premature lung injury. When his team injected bone marrow stem cells into the rats' airways, their breathing ability and survival rate improved, and they could run twice as far as untreated rats with lung injury. He has recently demonstrated even more promising results using stem cells from umbilical cord blood.

While the primary focus of Dr. Thébaud's research is on lung disease in premature babies, he also conducts research on other lung diseases, including asthma and chronic obstructive pulmonary disease.

When he formally starts in Ottawa this fall, Dr. Thébaud will be appointed as a Senior Scientist at OHRI and CHEO RI, a Pediatrician at CHEO and The Ottawa Hospital and a Professor in the Faculty of Medicine at the University of Ottawa.

"We are absolutely delighted to have such a world-class researcher as Dr. Thébaud joining us in Ottawa," said Dr. Martin Osmond, CEO and Scientific Director of the CHEO Research Institute. "His considerable research skills and expertise will link researchers from the CHEO RI, the OHRI and the University of Ottawa all with the aim of improving outcomes for some of our sickest pediatric patients."

"Dr. Thébaud is without a doubt, a world-leader in stem cell research and as a clinician-scientist, he is ideally positioned to develop and test new therapies for patients," said fellow stem-cell researcher Dr. Duncan Stewart, who is also CEO and Scientific Director at OHRI, Vice-President of Research at The Ottawa Hospital and Professor of Medicine at uOttawa. "His recruitment adds to Ottawa's growing reputation as a top city for stem cell research, just five years after the landmark opening of our Sprott Centre for Stem Cell Research."

"The recruitment of Dr. Thébaud is not only a coup for the Faculty of Medicine and University, but for the city as well," said Dr. Bernard Jasmin, Vice-Dean, Research, Faculty of Medicine, University of Ottawa. "Our partnership with our hospitals and research institutes has clearly been instrumental in attracting Dr. Thébaud to Ottawa. It is through such an alignment of our strategic and common vision that we will be able to continue growing our research enterprise making Ottawa a world class center for health care and research."

"Dr. Thebaud's recruitment will substantially bolster the academic mission of the Department of Paediatrics and we are delighted to have him join our faculty," said Dr. Ciaran Duffy, Chair, Department of Paediatrics at CHEO.

Dr. Thébaud has received many awards during his career, including a Canada Research Chair (Tier 2) in Lung Development, Injury and Repair, a "Rising Star in Perinatal Research" New Investigator Award from the Canadian Institutes of Health Research and a Sanofi Pasteur "Best in Current Canadian Child Health Research" Award.

Dr. Thébaud's research in Ottawa will be supported by external peer-reviewed funding, as well as by the CHEO Foundation and The Ottawa Hospital Foundation, especially through joint initiatives such as the We All Win Lottery.

Media Contacts
• Adrienne Vienneau, CHEO RI, 613-737-7600 x 4144, 613-513-8437 (cell), avienneau@cheo.on.ca
• Jennifer Ganton, OHRI, 613-614-5253 (cell), jganton@ohri.ca
• Néomie Duval, uOttawa, 613-562-5800 x 298, 613-863-7221 (cell), neomie.duval@uottawa.ca

About the Ottawa Hospital Research Institute
The Ottawa Hospital Research Institute (OHRI) is the research arm of The Ottawa Hospital and is an affiliated institute of the University of Ottawa, closely associated with the university's Faculties of Medicine and Health Sciences. OHRI includes more than 1,500 scientists, clinical investigators, graduate students, postdoctoral fellows and staff conducting research to improve the understanding, prevention, diagnosis and treatment of human disease. www.ohri.ca.

About the CHEO Research Institute
Established in 1984, the CHEO Research Institute coordinates the research activities of the Children's Hospital of Eastern Ontario (CHEO) and is one of the institutes associated with the University of Ottawa teaching hospitals. The Research Institute brings together health professionals from within CHEO to share their efforts in solving pediatric health problems. It also promotes collaborative research outside the hospital with partners from the immediate community, industry and the international scientific world. For more information, please visit www.cheori.org.