Newsroom
News Release
Researchers in Ottawa achieve breakthrough with rare disease: Stem cells used to send "stiff person syndrome" into long-term remission
August 25, 2014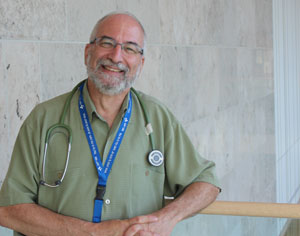 Ottawa—Scientists at The Ottawa Hospital Research Institute have made a breakthrough in the successful treatment of a rare and debilitating neurological disease known as stiff person syndrome that leaves people who are afflicted with the disorder standing like tin soldiers and unable to move their bodies normally.

Dr. Harold L. Atkins (medical director and scientist at the Ottawa Hospital Research Institute, a physician in the Blood and Bone Marrow Transplant Program at The Ottawa Hospital and an associate professor at the University of Ottawa) has succeeded in putting into remission two female patients who suffered from the extremely rare autoimmune disease, stiff person syndrome – a disease that is characterized by stiffness of the muscles and painful muscle spasms. In extreme cases the disease prevents people from moving and walking, and leaves them bedridden.

But now, Dr. Atkins and his team in Ottawa have managed to stop the disease from progressing in two women – helping them to regain their previous function and leaving them well enough to return to work and normal everyday activities. This case study was published today in the prestigious medical journal JAMA Neurology, which is produced by the Journal of the American Medical Association. It is the first documented report that taking stem cells from a person's own body can produce long-lasting remission of stiff person syndrome.

"We approach these cases very carefully and are always aware that there have just been a few patients treated and followed for a short time," says Dr. Atkins, who took stem cells from each woman's own body, used chemotherapy to eliminate their immune system and transplanted the stem cells back, allowing a new immune system to grow.

"By changing the immune system, one hopes to put the stiff person syndrome into remission," adds Dr. Atkins. "Seeing these two patients return to their normal lives is really every physicians dream."

The type of stem cell transplantation used to treat stiff person syndrome had been previously used to successfully treat people who suffer from autoimmune diseases such as multiple sclerosis and scleroderma, both of which are resistant to more conventional treatments. Led by The Ottawa Hospital Blood and Marrow Transplant Program, Dr. Atkins and his team used high-doses of chemotherapy and antilymphocyte antibodies to rid the women's bodies of diseased immune cells before their immune systems were regenerated using their own stem cells. This was viewed as a reasonable treatment option by Dr. Atkins and the other researchers involved based on the knowledge they derived from previous research and trials on other autoimmune diseases that were conducted at The Ottawa Hospital.

As outlined in the case study, Patient 1 was diagnosed with stiff person syndrome in 2005 at age 48 after experiencing leg stiffness and several falls, had her symptoms disappear and was fully mobile again six months after receiving the stem cell transplant procedure in 2009.

Patient 2 was diagnosed with stiff person syndrome in 2008 at age 30. She had stopped working and driving, and had moved back in with her parents before undergoing Dr. Atkins stem cell procedure in 2011. She too has been able to return to her work and previous activities, and has not had any stiff person syndrome symptoms in more than a year.



Tina Ceroni, Patient 2, tells her story
"The results achieved by Dr. Atkins and his team through this innovative treatment show how research at The Ottawa Hospital can lead to life-changing and, even life-saving care," says Dr. Duncan Stewart, Chief Executive Officer and Scientific Director of the Ottawa Hospital Research Institute. "Translating research into better care for patients is what we're all about at the research institute."
Information for Patients:
Bone marrow stem cell transplantation for rare autoimmune diseases
The full article "
Autologous Stem Cell Transplantation for Stiff Person Syndrome: Two cases from the Ottawa Blood and Marrow Transplant Program
" was published online by
JAMA Neurology
on August 25, 2014.
About the Ottawa Hospital Research Institute
The Ottawa Hospital Research Institute is the research arm of The Ottawa Hospital. It is an affiliated institute of the University of Ottawa, closely associated with its faculties of Medicine and Health Sciences. The Ottawa Hospital Research Institute includes more than 1,700 scientists, clinical investigators, graduate students, postdoctoral fellows and staff conducting research to improve the understanding, prevention, diagnosis and treatment of human disease.
Media contacts
Paddy Moore
Communications and Public Relations
Ottawa Hospital Research Institute
613-737-8899 ext. 73687
613-323-5680 (cell)
padmoore@ohri.ca