Newsroom
Ottawa stem cell scientist helps patients separate hope from hype
April 17, 2015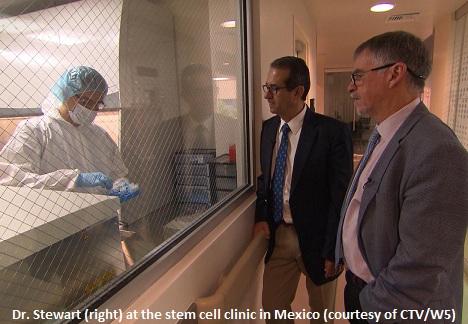 Did hockey legend Gordie Howe experience a miraculous recovery from a stroke after receiving stem cell treatment in Mexico? What therapy did he receive, and was this done as part of a rigorous research study, or was it unscrupulous stem cell tourism? These questions have generated enormous public interest over the last few months, but few real answers.

Now Dr. Duncan Stewart, a leading stem cell researcher at The Ottawa Hospital and the University of Ottawa, is helping CTV's W5 bring some clarity to this discussion. Dr. Stewart recently accompanied CTV reporter Avis Favaro to the Mexican clinic where Howe was treated, as well as to the U.S. facility that produced the stem cells.

"I agreed to help with this project because I thought it would be a good opportunity to contribute to an important public discussion about stem cell research," said Dr. Stewart. "Stem cell research holds incredible potential for treating and even curing devastating diseases, but in most cases, we are still at the very early stages of this research and we need rigorous science and clinical trials to move forward. Unrealistic expectations and medical tourism could hamper the great progress we are making."

Mr. Howe was treated with two kinds of human stem cells: mesenchymal stem cells derived from donated adult bone marrow and neural stem cells derived from donated fetal cells. Mesenchymal stem cells have shown some signs of modest effectiveness in previous clinical trials, but neural stem cells are less well-studied.

During the trip, Dr. Stewart had a chance to speak with people involved in producing and administering the stem cells, and view their facilities, documents and procedures. He was particularly interested in the regulatory framework for producing and administering the stem cells. In Canada and the U.S., any drug or cell therapy that will be used in humans must be produced in a carefully regulated manufacturing facility. In addition, experimental therapies can only be administered to humans through carefully regulated clinical trials that are designed to protect patient safety and produce meaningful results. The regulatory framework in Mexico is quite different, however.

"The good news is that the stem cells that Mr. Howe received were produced in a facility in the U.S. that complies with appropriate regulations, so we know that these were high-quality stem cells," said Dr. Stewart. "I was also encouraged to see that the licensing agreement between the stem cell production facility in the U.S. and the clinic in Mexico requires that the stem cells be administered through clinical trials."

"The bad news is that the clinic in Mexico is not in a position to perform clinical trials that meet Canadian and U.S. regulatory standards," added Dr. Stewart. "This means that it is not clear whether meaningful results will be collected and whether patient safety will be adequately protected. It is also important to remember that this is not a research facility – it is a for-profit business."

"Although they are using high-quality stem cells and have some of the trappings of clinical research, this is still a form of stem cell tourism," said Dr. Stewart. "Without more rigorous research, we will probably never know if Mr. Howe truly benefited from stem cells or if his recovery was due to chance or other factors."

Dr. Stewart is a Senior Scientist in the Regenerative Medicine Program at the Ottawa Hospital Research Institute, Executive Vice-President of Research at The Ottawa Hospital, Professor of Medicine at the University of Ottawa and a practicing cardiologist. His research group is studying the basic science of blood vessel stem cells (called endothelial progenitor cells), and leading the first clinical trial in the world of genetically-enhanced stem cell therapy for heart attack patients.

"I often hear from patients who are interested in experimental stem cell therapy and I really feel for them because they may have exhausted all conventional treatment options," said Dr. Stewart. "I urge these patients to work with their physicians to try to find appropriate clinical trials in Canada or the U.S."

"I also urge Canadians to support health research in general, and stem cell research in particular, so that we can rigorously test new therapies and learn how to improve them," he added.

Links:

Ottawa Hospital Research Institute
The
Ottawa Hospital Research Institute
is the research arm of
The Ottawa Hospital
and is an affiliated institute of the
University of Ottawa
, closely associated with its faculties of Medicine and Health Sciences. The Ottawa Hospital Research Institute includes more than 1,700 scientists, clinical investigators, graduate students, postdoctoral fellows and staff conducting research to improve the understanding, prevention, diagnosis and treatment of human disease. Support our research. Give to the
Tender Loving Research
campaign.
For further information, please contact
Jennifer Ganton
Director, Communications and Public Relations
Ottawa Hospital Research Institute
Office: 613-737-8899 x73325
Cell: 613-614-5253
jganton@ohri.ca