Newsroom
Local teacher with brain cancer beats the odds thanks to 'bionic man' therapy
June 2, 2015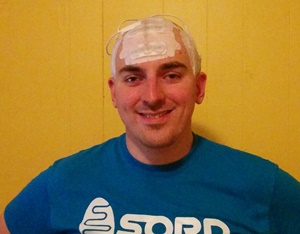 Walking around with electrodes stuck to his head and a battery pack on his back, Denis Raymond has heard it all. Some people ask him if it's a new kind of video game, or a telephone or a stereo system. Others call him a bionic man or a robot.

The truth is much more interesting. Since September 2013, Raymond has been wearing an experimental device that transmits low-intensity electrical fields into his brain to try to prevent his tumour from coming back.

Raymond, 28, was diagnosed with glioblastoma multiforme in May 2013. Although surgery, radiation and chemotherapy can prolong survival, more than 90 percent of people with this kind of cancer die within three years of diagnosis.

Raymond received the standard therapies at The Ottawa Hospital but, as a high school science and math teacher, he was also very interested in experimental therapies. In his online research online, he came across clinical trials of electrical field therapy and started calling hospitals in the U.S. to see if he could participate.

"I remember asking one of the hospitals if they would accept a Canadian patient in their clinical trial, and they said 'Why don't you just enroll at The Ottawa Hospital?' I was amazed that this innovative therapy was available here in Ottawa," said Raymond.

Dr. Garth Nicholas, an oncologist at The Ottawa Hospital and assistant professor at the University of Ottawa, led the Canadian arm of the randomized controlled clinical trial. The trial was stopped early in November 2014 because the results were so good that an independent group felt that all of the participants should be offered the experimental therapy. Forty-three percent of people who received the experimental therapy as well as the standard therapy were alive after two years, compared to 29 percent of patients who received the standard therapy alone. The results, which involve 700 patients, were presented at a scientific meeting and are expected to be published in a peer-reviewed scientific journal soon.

"This is a breakthrough," said Dr. Nicholas. "This is the only clinical trial in this kind of brain cancer that has shown an improvement in survival since 2005."

The therapy is approved in the United States but not yet in Canada.

Raymond is hopeful, but also realistic.

"I know my cancer might come back but maybe, at that point, there will be some other new therapy for me to try," said Raymond. "There is so much exciting research going on, so I'm very optimistic."

Update: The full results of this study were published in December 2015.


Ottawa Hospital Research Institute
The
Ottawa Hospital Research Institute
is the research arm of
The Ottawa Hospital
and is an affiliated institute of the
University of Ottawa
, closely associated with its faculties of Medicine and Health Sciences. The Ottawa Hospital Research Institute includes more than 1,700 scientists, clinical investigators, graduate students, postdoctoral fellows and staff conducting research to improve the understanding, prevention, diagnosis and treatment of human disease. Support our research. Give to the
Tender Loving Research
campaign.
For further information, please contact
Lois Ross
Senior Communications Specialist
Ottawa Hospital Research Institute
Office: 613-737-8899 x73687
Cell: 613-297-8315
loross@ohri.ca