Newsroom
Creators of ImmunizeCA mobile app win national award for community impact
June 3, 2015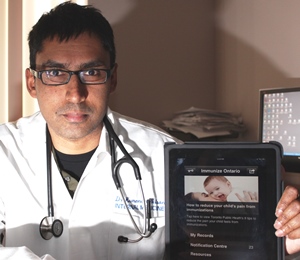 The Ottawa Hospital Research Institute, the Canadian Public Health Association and Immunize Canada, creators of the ImmunizeCA app, received the Canadian Wireless Telecommunications Association's (CWTA) "Connected to the Community" award on May 27th. The award honours organizations that use wireless technology to improve the lives of Canadians. Dr. Kumanan Wilson accepted the award at the CWTA's 30th anniversary event in Ottawa. The ImmunizeCA app, launched in March 2014, helps parents store, manage and back-up their families' vaccination records and easily access their provincial or territorial vaccination schedule on their smartphones. It also provides local outbreak alerts on infectious diseases and up-to-date, accurate information on vaccinations for children, adults and travellers. See media release for details.


Ottawa Hospital Research Institute
The
Ottawa Hospital Research Institute
is the research arm of
The Ottawa Hospital
and is an affiliated institute of the
University of Ottawa
, closely associated with its faculties of Medicine and Health Sciences. The Ottawa Hospital Research Institute includes more than 1,700 scientists, clinical investigators, graduate students, postdoctoral fellows and staff conducting research to improve the understanding, prevention, diagnosis and treatment of human disease. Support our research. Give to the
Tender Loving Research
campaign.
For further information, please contact
Lois Ross
Senior Communications Specialist
Ottawa Hospital Research Institute
Office: 613-737-8899 x73687
Cell: 613-297-8315
loross@ohri.ca