Newsroom
Clinical trial improved quality of life for cancer patient
September 16, 2015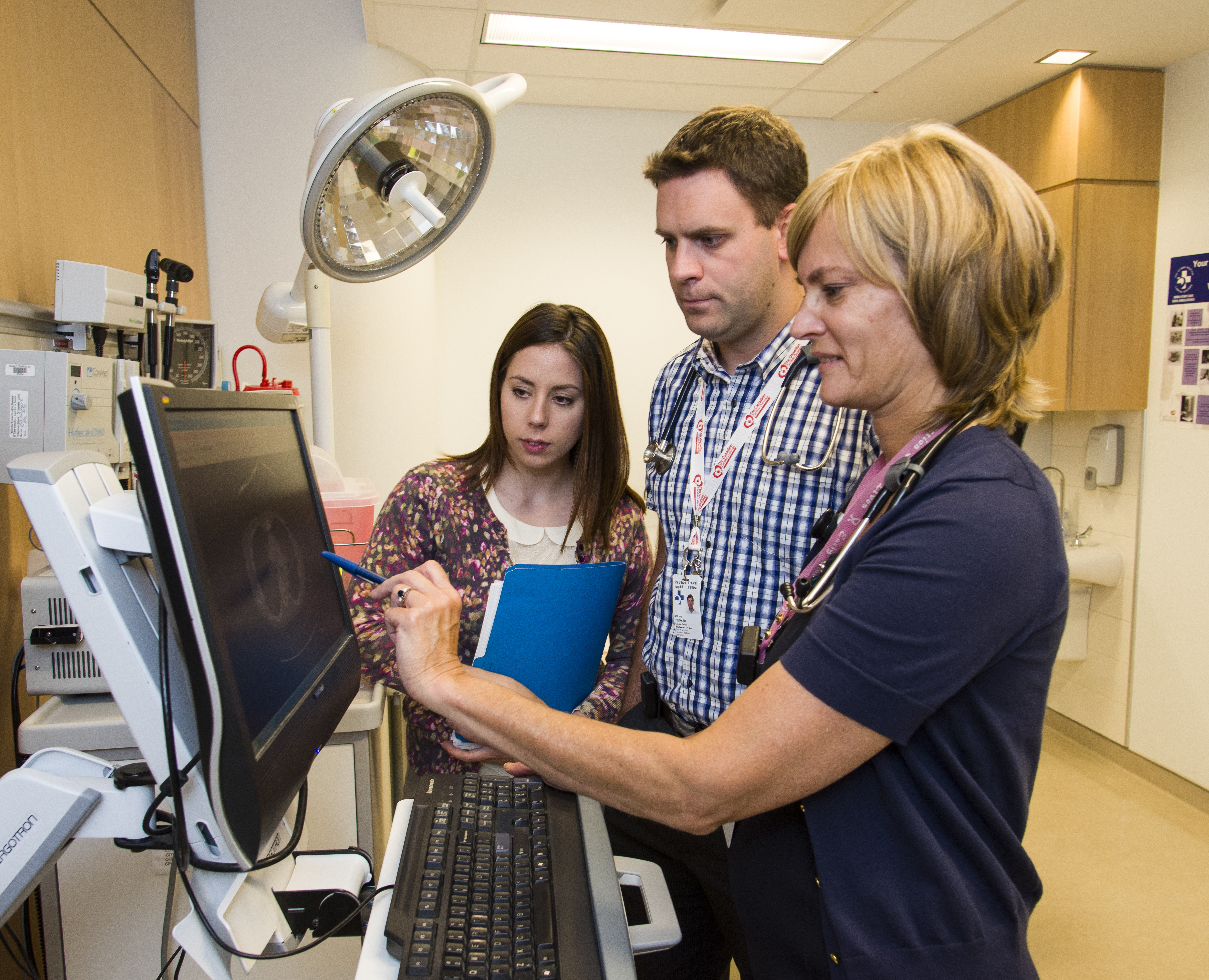 Dr. Susan Dent (right) has been involved in more than 30 clinical cancer trials since joining The Ottawa Hospital in 2000. She has worked in the lab with research associate Natalie Wright (left) and cardio-oncology fellow Jeffrey Sulpher.
Doris Kelly was admitted to hospital after her breast cancer, originally diagnosed in 2001, spread to her bones and liver. She was told in December 2012 that her chance of survival was less than one percent, and that she had just weeks to live.
However, Kelly was a candidate for a clinical trial with a new drug, not otherwise available.
Clinical trials can be crucial for both patients and the health-care system. New therapies must be tested rigorously before public release, and that testing is done through clinical trials. This particular clinical trial not only helped Kelly, but also led to the approval of the drug called TDM-1, which is a targeted therapy combining an antibody and a chemotherapy drug.
These days, after 45 treatments of TDM-1, Kelly is not cured, but her quality of life is good.
"My illness is now in maintenance – incurable but treatable," Kelly said following her treatments. "And because this worked for me, it's opened doors to help other people."
The successful outcome of the trial means the drug is now approved and offered to patients in clinics across Canada.
"It's encouraging that this new drug has helped Doris, with very few side effects," said Dr. Susan Dent, a medical oncologist and clinician investigator at The Ottawa Hospital and an associate professor at the University of Ottawa. "We want to offer treatment that will provide the best quality of life with the best chance of controlling the disease, if we can't cure it."
The Ottawa Hospital is one of the top centres for cancer clinical trials, noted Dr. Dent.
"We work very closely with national and international co-operative or non-industry groups on clinical trials, as well as with pharmaceutical partners, to support bringing drugs to market that help patients," she explained.
Currently, researchers at the hospital are involved in about 625 active clinical trials for a wide variety of conditions. Clinical trials here have contributed to the approval of nine new breast cancer drugs.
People interested in participating in a clinical trial should speak with their physician. Additional information is available
for patients
as well as from
ontariocancertrials.ca
. To learn more about Dr. Dent's research, listen to this radio interview.