Newsroom
Outstanding research on display at the Ottawa Hospital Research Institute's 15th annual Research Day
November 19, 2015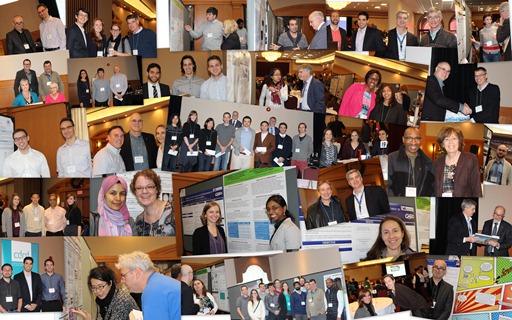 The Ottawa Hospital Research Institute's 15th annual Research Day was a great success, with more than 360 attendees packing the St. Elias Centre to capacity.

Designed to highlight and celebrate the outstanding work of trainees, as well as promote scientific interaction, the event featured 126 posters (nearly 100 competing for prizes) and 16 oral presentations.

Drs. Duncan Stewart and Fraser Scott set the stage with introductory remarks, while Drs. Peter Zandstra and Harvey Max Chochinov gave the keynote lectures.

Prizes were awarded to the following trainees:

IMPACT (Identification of Marketable Products, Applications and Commercializable Technologies) Award

1st: Brian Keller, Adrian Pelin, Jiahu Wang, Fabrice LeBoeuf (Bell group) Bio-engineering novel vaccinia virus-based oncolytics for the treatment of cancer

2nd: Leslie Nash (Parks group) Exosomes: the biological swiss army knife for spinal muscular atrophy

3rd: David Lu (Sachs group) Decreasing deep brain stimulation surgery time and improving patient outcomes through automatic target localization with real-time analysis of intraoperative brain signals
Oral Presentation Competition:
1st: Nicolas Dumont (Rudnicki group) Muscle Stem Cell Dysfunction in Duchenne Muscular Dystrophy

2nd: Sylvain Fraineau (Brand group) Activation of major signaling pathways in human endothelial progenitors through de-repression of bivalent genes

3rd: Lee-Hwa Tai (Auer group) Phosphodiesterase-5 inhibition augments postoperative natural killer cell antitumor immunity by reducing myeloid-derived suppressor cell function
Postdoctoral Fellow Poster Competition:
1st: Yong Tao (Liu group) Peri-ovulatory putrescine supplementation reduces embryo resorption in older mice

2nd: Pamela Lagali (Tsilfidis and Picketts groups) Non-cell autonomous Atrx activity promotes retinal neuroprotection

3rd: Natasha Chang (Rudnicki group) Regulation of satellite stem cell self-renewal by p38-gamma MAP kinase
PhD Student Poster Competition:
1st: Anisha Lynch-Godrei (Kothary group) Dystonin loss-of-function in oligodendrocytes does not impair migration, differentiation, or myelination

2nd: Benjamin Pryce (Sabourin group) Deletion of the Ste20-Like Kinase Results in Impaired Muscle Function, but Rescues Terminal Differentiation in Response to TGFb Signaling

3rd: Sean Delaney (Stanford group) Evidence of a neural crest origin for Lymphangioleiomyomatosis: loss of TSC2 function enhances neural crest differentiation
MSc Student and Other Poster Competition:
1st: Peter Feige (Rudnicki group) Molecular regulation of satellite cell fate switching

2nd: Maxwell Sunohara (Brand group) The Role of c-MYC in Chronic Myelogenous Leukemia

3rd: Hwan Hee Son (Diallo group) Developing Biomarkers to Select Potential Patients for Clinical Trials of Oncolytic Virotherapy
Dr. Goodman Cohen Summer Student Award:
Senior Award: Olivia Cook (Thiruganasambandamoorthy group) Reasons for Referrals and Hospital Admissions among Emergency Department Syncope Patients

Junior Award: Lubina Nayak (Breau group) Continence and Complications in Patients with Neobladder Diversions
Research Day Committee:
Dr. Fraser Scott (Chair), Dr. Jay Baltz, Jane Canniff, Dr. Ketul Chaudhary, Dr. Angela Crawley, Dr. Jim Dimitroulakos, Dr. Dean Fergusson, Dr. Anouk Fortin, Jennifer Ganton, Dr. Jelena Ivanovic, Dr. Ian Lorimer, Dr. Tim Ramsay, Dr. Luc Sabourin, Dr. William Stanford, Dr. Duncan Stewart, Dr. Catherine Tsilfidis
Supporters: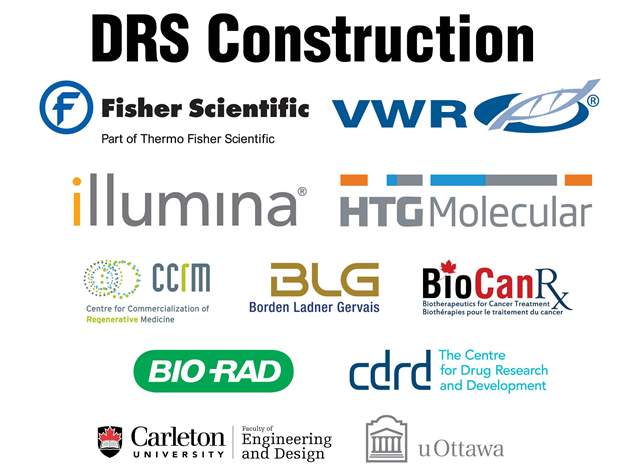 About The Ottawa Hospital
The Ottawa Hospital is one of Canada's largest learning and research hospitals with over 1,100 beds, approximately 12,000 staff and an annual budget of over $1.2 billion. Our focus on research and learning helps us develop new and innovative ways to treat patients and improve care. As a multi-campus hospital, affiliated with the University of Ottawa, we deliver specialized care to the Eastern Ontario region, but our techniques and research discoveries are adopted around the world. We engage the community at all levels to support our vision for better patient care.
For further information, please contact
Jennifer Ganton
Director, Communications and Public Relations
Ottawa Hospital Research Institute
Office: 613-798-5555 x 73325
Cell: 613-614-5253
jganton@ohri.ca