Newsroom
News Release
Man survives severe infection after participating in world-first stem cell trial at The Ottawa Hospital
March 31, 2016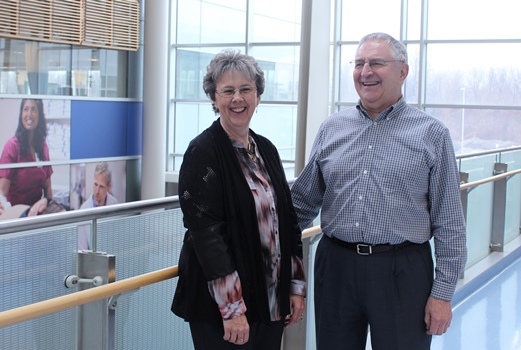 Stem cells are usually thought of as the building blocks of the body – able to give rise to all our cells and organs. But a clinical trial at The Ottawa Hospital is testing the idea that certain stem cells may also be able to help control the body's immune system to reduce injury and promote healing, while improving its ability to fight infection.

Charles Berniqué, a 73-year-old grandfather from Hawkesbury, Ontario, recently survived a deadly infection requiring prolonged intensive care and returned to his family and work after participating in this world-first trial.

"It is tremendous what The Ottawa Hospital did for me," said Berniqué. "I was so close to death, but I received the best care in the world and got to participate in this study which could help many people."

Berniqué developed an infection in June 2015 after his esophagus burst, possibly due to a severe case of food poisoning. This led to severe septic shock, a deadly condition that occurs when an uncontrolled infection results in hyper-activation of the immune system, causing the cardiovascular system and other organs to fail. Thoracic surgeons at The Ottawa Hospital provided fluid resuscitation, repaired his esophagus and initiated antibiotic therapy. He was placed into a coma in the intensive care unit (ICU), receiving medications, mechanical ventilation and dialysis to support his heart, lungs and kidneys.

It was during this time that his wife, Maureen, consented to his participation in the clinical trial.

"I just wanted to do whatever I could to help him," she said.

Within 24 hours, Berniqué received an intravenous infusion of 30 million mesenchymal stem cells, grown in a special facility at The Ottawa Hospital. The stem cells were originally extracted from the bone marrow of a healthy Ottawa volunteer.

In the end, Berniqué battled back, and despite a number of complications from the massive infection, he slowly recovered. After nearly three months at The Ottawa Hospital, he is now back home in Hawkesbury, spending time with his wife, children and grandchildren and working part-time.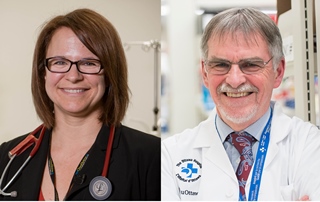 The clinical trial that Berniqué participated in is the result of many years of research led by Drs. Duncan Stewart and Lauralyn McIntyre.

"Our laboratory studies that showed that mesenchymal stem cell therapy tripled survival in a mouse model of septic shock," said Dr. Stewart, Executive Vice-President of Research and senior scientist at The Ottawa Hospital, and professor at the University of Ottawa. "The cells also reduced damaging inflammation and helped the mice eliminate the bacteria."

Dr. McIntyre, an intensive care physician and senior scientist at The Ottawa Hospital, was impressed by the results.

"Researchers around the world have spent decades trying to find a therapy that will treat the root causes of septic shock rather than just the symptoms, but so far, none of these therapies have improved survival," said Dr. McIntyre, who is also an associate professor at the University of Ottawa. "So I was very excited to work with Dr. Stewart and his team to design and lead a clinical trial to test this experimental therapy in our patients. We don't know whether the cell therapy played any role in Mr. Berniqué's remarkable recovery, but the cells were very well tolerated and we are excited to continue to study this promising therapy in more patients."

More than 100,000 Canadians suffer from septic shock each year, and between 20 and 40 per cent of these people do not survive. Septic shock accounts for 20 percent of all ICU admissions and costs the Canadian health-care system approximately $4 billion each year.

The trial at The Ottawa Hospital, called Cellular Immunotherapy for Septic Shock (CISS), will include nine patients treated with increasing doses of mesenchymal stem cells. Another 21 patients previously participated as part of the control arm of the trial. The trial is funded by the Canadian Institutes of Health Research (CIHR) and the Stem Cell Network, with additional support from The Ottawa Hospital Foundation.

While mesenchymal stem cells have been studied extensively in human clinical trials for other conditions, CISS is the first trial in the world to evaluate the cells specifically for the treatment of septic shock. As a "Phase I" trial, the main goal of CISS is to look at the tolerability and feasibility of mesenchymal stem cell therapy in patients with septic shock. The researchers expect to publish results by 2017. They have already received funding from the Ontario Institute for Regenerative Medicine to begin scaling up their cell bank for a larger "Phase II" trial, which will help determine if the therapy is effective. This project may involve Canadian Blood Services and other partners.

"The Ottawa Hospital is rapidly becoming known as a leader in conducting world-first clinical trials with innovative therapies such as stem cells," said Dr. Stewart. "This research is truly pushing the boundaries of medical science forward, and is providing the citizens of Ottawa with access to promising new therapies."

The Ottawa Methods Centre, the Canadian Critical Care Trials Group and the Canadian Critical Care Translational Biology Group provided valuable input into the design of CISS. Other co-investigators on the Phase I trial include Drs. Dean Fergusson (The Ottawa Hospital, uOttawa), David Courtman (The Ottawa Hospital, uOttawa), John Marshall (St. Michael's Hospital, University of Toronto), John Granton (University of Toronto), Brent Winston (University of Calgary), Keith Walley (St. Paul's Hospital, University of British Columbia), Shirley Mei (The Ottawa Hospital, uOttawa) and Manoj Lalu (The Ottawa Hospital, uOttawa). The trial is coordinated by Irene Watpool.

Quotes from Funders and Partners

"Drs. Stewart and McIntyre's work holds great promise," said Dr. Marc Ouellette, Scientific Director of the CIHR Institute of Infection and Immunity. "I am hopeful that this trial will be able to tell us a great deal about the effectiveness of cellular immunotherapy using stem cells for the treatment of septic shock and its complications."

"This phase 1 study is both exciting and backed by excellent science, which made a compelling case for Dr. Stewart's team to receive Disease Team funding through the Ontario Institute for Regenerative Medicine," said Dr. Janet Rossant, OIRM's President and Scientific Director. "We very much look forward to seeing the results of Dr. Stewart's efforts to scale up the therapeutic stem cells in pursuit of further trials that have the potential to help more patients."

"Stem cell research in Canada is now reaching the point where clinical practice will be impacted in exciting and unforeseen ways," said Dr. Michael Rudnicki, Scientific Director of the Stem Cell Network, Director of the Regenerative Medicine Program at The Ottawa Hospital and professor at the University of Ottawa. "The Stem Cell Network is proud to support such an exciting and innovative clinical trial led by Dr. Lauralyn McIntyre here in Ottawa, with a stem cell therapy that has the potential to enhance the survival of patients with such serious blood infections."

"We are so enthused to see the progress Dr. McIntyre and her team have made over the last six years with this novel therapeutic approach for patients affected by this devastating infection," said Dr. Paul Hébert, Chair of the Canadian Critical Care Trials Group, a world renowned critical care research network. "Ingenious researchers such as Dr. McIntyre and ground breaking research programs such as this one have helped improve the care of critically ill patients across the globe, and we are proud to have supported her bringing this research to fruition."

"Canadian Blood Services is looking forward to working with Dr. McIntyre and her research team on this project, which has the potential to deliver exciting new cellular therapy," said Dr. Dana Devine, chief medical and scientific officer at Canadian Blood Services. "We hope our expertise in the preservation of cells and tissues at sub-zero temperatures and our experience in biologics manufacturing and distribution can ultimately help speed up the use of this technology."

Audiovisual: Photos and videos are available upon request.

About The Ottawa Hospital: The Ottawa Hospital is one of Canada's largest learning and research hospitals with over 1,100 beds, approximately 12,000 staff and an annual budget of over $1.2 billion. Our focus on research and learning helps us develop new and innovative ways to treat patients and improve care. As a multi-campus hospital, affiliated with the University of Ottawa, we deliver specialized care to the Eastern Ontario region, but our techniques and research discoveries are adopted around the world. We engage the community at all levels to support our vision for better patient care. See www.ohri.ca for more information about research at The Ottawa Hospital.

Media Contact: Jennifer Ganton, Director, Communications and Public Relations Ottawa Hospital Research Institute; jganton@ohri.ca; 613-798-5555 x 73325; 613-614-5253 (cell) OR Amelia Buchanan, Senior Communications Specialist, Ottawa Hospital Research Institute; ambuchanan@ohri.ca; 613-798-5555 x 73687; 613-297-8315 (cell)