Newsroom
Harness your own stem cells to heal shoulders: $1 million committed for Research Chair in Regenerative Orthopaedic Surgery
April 7, 2016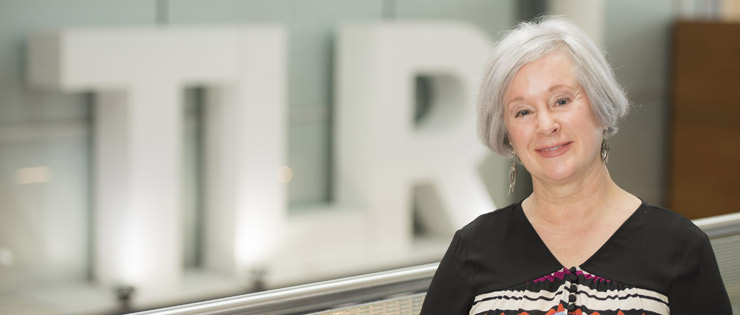 Faye Posmituk happily took part in a clinical trial investigating the possibility of healing tendons with stem cells.

Teacher Faye Posmituk couldn't lift a piece of chalk to write on the blackboard without pain.

Despite months of physiotherapy, her sore shoulder got worse. An MRI revealed multiple tears in her rotator cuff tendons and she was referred to TOH for surgery.

Orthopaedic surgeon Dr. Peter Lapner told Posmituk she was a candidate for a clinical trial, investigating the possibility of healing tendons with stem cells. Posmituk jumped at the opportunity to take part.

"I believe firmly that stem cells are the way of the future," Posmituk said. "If this study helps anyone who has a shoulder injury and speeds up their recovery, I'm happy to help."

The University of Ottawa's Division of Orthopaedic Surgery (at The Ottawa Hospital and Children's Hospital of Eastern Ontario) has committed $1 million to create a Research Chair in Regenerative Orthopaedic Surgery to support this type of research, and is looking to raise an additional $500,000.

"We want to harness the capacity of bone to repair, restore and regenerate," said Dr. Paul E. Beaulé, Head of the Division of Orthopaedic Surgery.

Bone marrow is rich in stem cells, which have the potential to develop into various cell types and serve as an internal repair system for different parts of the body. Dr. Lapner is working with rehabilitation physician Dr. Guy Trudel and research scientist Dr. Jeffrey Dilworth on a clinical trial to determine if stem cells from bone marrow or tendons can assist in post-surgery healing.

A week before surgery, patients undergo an experimental procedure called trephination, where tiny holes are drilled into their arm bone. This allows stem cells to migrate to the operation site with the hope they will aid in healing, which means faster rehabilitation and better outcomes. The trial, funded by the Canadian Institutes of Health Research, compares this innovative procedure to a tendon-trephinated control group.

Although Posmituk doesn't know if she received the stem cell or the control procedure, she is pleased with her recovery. A year after her shoulder surgery, she is back to her normal activities, and can even hold her own in the downward dog position in yoga class.

This is just one example of how research in stem cells and regeneration may be able to improve care for people with bone and joint problems. By creating the Research Chair in Regenerative Orthopaedic Surgery, The Ottawa Hospital and the University of Ottawa hope to support this kind of research in the future.


About The Ottawa Hospital
The Ottawa Hospital is one of Canada's largest learning and research hospitals with over 1,100 beds, approximately 12,000 staff and an annual budget of over $1.2 billion. Our focus on research and learning helps us develop new and innovative ways to treat patients and improve care. As a multi-campus hospital, affiliated with the University of Ottawa, we deliver specialized care to the Eastern Ontario region, but our techniques and research discoveries are adopted around the world. We engage the community at all levels to support our vision for better patient care.
About the University of Ottawa
The University of Ottawa is home to over 50,000 students, faculty and staff, who live, work and study in both French and English. Our campus is a crossroads of cultures and ideas, where bold minds come together to inspire game-changing ideas. We are one of Canada's top 10 research universities—our professors and researchers explore new approaches to today's challenges. One of a handful of Canadian universities ranked among the top 200 in the world, we attract exceptional thinkers and welcome diverse perspectives from across the globe. www.uottawa.ca
For further information, please contact
Jennifer Ganton
Director, Communications and Public Relations
Ottawa Hospital Research Institute
Office: 613-798-5555 x 73325
Cell: 613-614-5253
jganton@ohri.ca