Newsroom
Experimental treatment gave new life to P.E.I. mother
June 15, 2016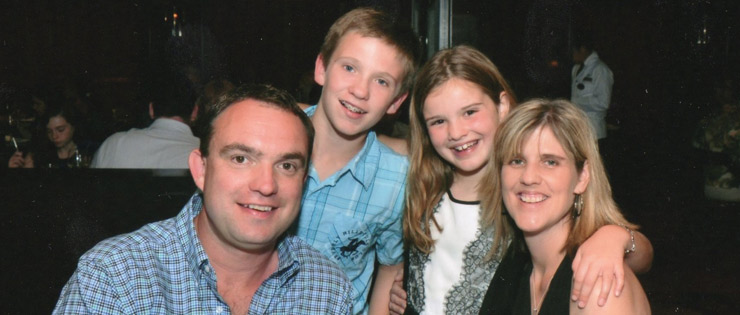 Cathy Nabuurs (far right) took part in an experimental treatment at The Ottawa Hospital for her early, aggressive multiple sclerosis. She and her family – husband, Mike, and their children, Ethan and Megan – saw a major change in her disease.

Cathy Nabuurs and her husband were ready to abandon their plans for a second child. In 2005, they had just learned that her multiple sclerosis was becoming more aggressive, and the P.E.I. woman decided to undergo an experimental treatment at The Ottawa Hospital that would leave her infertile.

"I was desperate to stop this disease from getting worse," she said.

But life had other plans. Right after she decided to take part in the study, Nabuurs discovered she was pregnant, so the treatment was postponed until after the baby was born. The pregnancy was challenging during the first trimester, and she had a particularly bad attack that caused significant weakness in her hands and right leg.

Once her daughter, Megan, was born in August 2006, Nabuurs signed up for the study and had the transplant a year later. During the intensive procedure, her entire immune system was wiped out with chemotherapy, and stem cells from her own blood rebuilt a new one.

Like many of the 24 patients in the trial, Nabuurs saw a major change in her multiple sclerosis (MS). Before the treatment, she had at least two attacks a year, plus constant fatigue that required daily naps. Now, she has had no attacks or fatigue for almost nine years.

"I can now live my life without having to worry about the next big attack around the corner," said Nabuurs.

Dr. Harold Atkins, a stem cell transplant physician at The Ottawa Hospital and associate professor at the University of Ottawa, and Dr. Mark Freedman, a neurologist at the hospital and professor at the university, led the trial. Results were recently published in The Lancet. They showed that the treatment eliminated all signs of damaging brain inflammation in people with early, aggressive MS. In addition, 70 percent remained free of disease progression, and 40 percent saw a significant improvement in symptoms.

"This is very exciting," said Dr. Atkins. "However, it is important to note that this therapy can have serious side effects and risks, and would be appropriate only for a small proportion of people with very active MS."

Patients interested in this treatment should speak to their neurologist and request a referral to The Ottawa Hospital MS Clinic. For more information on the study, funded by the MS Society of Canada and its affiliated Multiple Sclerosis Scientific Research Foundation, see the news release.


The Ottawa Hospital: Inspired by research. Driven by compassion
The Ottawa Hospital is one of Canada's largest learning and research hospitals with over 1,100 beds, approximately 12,000 staff and an annual budget of over $1.2 billion. Our focus on research and learning helps us develop new and innovative ways to treat patients and improve care. As a multi-campus hospital, affiliated with the University of Ottawa, we deliver specialized care to the Eastern Ontario region, but our techniques and research discoveries are adopted around the world. We engage the community at all levels to support our vision for better patient care.
University of Ottawa
The University of Ottawa is home to over 50,000 students, faculty and staff, who live, work and study in both French and English. Our campus is a crossroads of cultures and ideas, where bold minds come together to inspire game-changing ideas. We are one of Canada's top 10 research universities—our professors and researchers explore new approaches to today's challenges. One of a handful of Canadian universities ranked among the top 200 in the world, we attract exceptional thinkers and welcome diverse perspectives from across the globe. www.uottawa.ca
For further information, please contact
Amelia Buchanan
Senior Communication Specialist
Ottawa Hospital Research Institute
Office: 613-798-5555 x 73687
Cell: 613-297-8315
ambuchanan@ohri.ca