Newsroom
Virus-chemo combination therapy shows promise in breast cancer models
August 24, 2016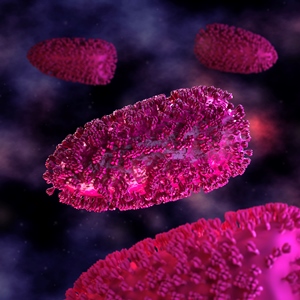 Researchers in Dr. John Bell's group and Dr. Jean-Simon Diallo's group have discovered that a cancer-fighting virus called Maraba-MG1, together with a common chemotherapy called paclitaxel, can slow the growth of breast cancer in animal models and in some cases, even eliminate it. Maraba-MG1 is currently being tested in a world-first clinical trial at The Ottawa Hospital, while paclitaxel is commonly used to treat breast cancer that is resistant to hormonal therapies. Using several different mouse models, the researchers show that this combination therapy works synergistically to increase cancer cell death without increasing side effects. Previous research suggests that this synergistic effect may occur because paclitaxel compromises the anti-viral defenses of cancer cells. Future clinical trials may assess this combination therapy. See Breast Cancer Research for details.

Authors: Marie-Claude Bourgeois-Daigneault, Lauren Elizabeth St-Germain, Dominic Guy Roy, Adrian Pelin, Amelia Sadie Aitken, Rozanne Arulanandam, Theresa Falls, Vanessa Garcia, Jean-Simon Diallo, John Cameron Bell.

Funders: Terry Fox Foundation, the Canadian Cancer Society Research Institute, Ontario Institute for Cancer Research, the Canadian Institute for Health Research, The Ottawa Hospital Foundation, Ottawa Regional Cancer Foundation.


The Ottawa Hospital: Inspired by research. Driven by compassion
The Ottawa Hospital is one of Canada's largest learning and research hospitals with over 1,100 beds, approximately 12,000 staff and an annual budget of over $1.2 billion. Our focus on research and learning helps us develop new and innovative ways to treat patients and improve care. As a multi-campus hospital, affiliated with the University of Ottawa, we deliver specialized care to the Eastern Ontario region, but our techniques and research discoveries are adopted around the world. We engage the community at all levels to support our vision for better patient care.
University of Ottawa
The University of Ottawa is home to over 50,000 students, faculty and staff, who live, work and study in both French and English. Our campus is a crossroads of cultures and ideas, where bold minds come together to inspire game-changing ideas. We are one of Canada's top 10 research universities—our professors and researchers explore new approaches to today's challenges. One of a handful of Canadian universities ranked among the top 200 in the world, we attract exceptional thinkers and welcome diverse perspectives from across the globe. www.uottawa.ca
For further information, please contact
Jennifer Ganton
Director, Communications and Public Relations
Ottawa Hospital Research Institute
Office: 613-798-5555 x 73325
Cell: 613-614-5253
jganton@ohri.ca