Newsroom
Innovative computer tablet could help stroke patients recover
January 5, 2017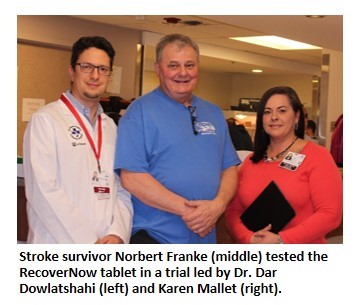 Stroke patients often spend days or weeks recovering in hospital, and while some rehabilitation services are available during this crucial time, many spend hours each day alone and inactive.

But now, some stroke patients at The Ottawa Hospital are using this time for speech and language therapy using a mobile tablet-based platform developed by stroke specialist Dr. Dar Dowlatshahi and colleagues. The platform, which is believed to be the first of its kind, is called RecoverNow. It allows clinicians to select various publicly-available stroke recovery apps from the Google Play store and monitor patients' progress in real-time.

Dr. Dowlatshahi and speech-language pathologist Karen Mallet recently tested RecoverNow in 30 patients. As indicated in PLOS ONE, patients used the tablet for an average of more than two hours per day, and 96 percent found it to be moderately to extremely convenient.

The team is now conducting a second 30-patient feasibility study using a new and improved RecoverNow for Android tablets, developed in collaboration with Julien Guerinet from Dr. Kumanan Wilson's mHealth Research Team. The next step will be a randomized controlled trial.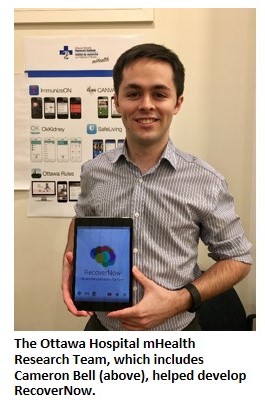 "Patients admitted with stroke spend the majority of their time inactive and alone, awaiting tests and therapies," said Dr. Dowlatshahi, who is also an associate professor at the University of Ottawa Brain and Mind Research Institute. "We designed RecoverNow to help patients engage in recovery therapy during this down-time while still in their hospital beds, whether it be in the evenings, weekends, or in between tests during the week."

Collaborators: Dar Dowlatshahi, Karen H. Mallet, Rany M. Shamloul, Dale Corbett, Hillel M. Finestone Simon Hatcher, Franco Momoli, Michel C.F. Shamy, Grant Stotts, Richard H. Swartz, Christine Yang, Kumanan Wilson, Michael Pugliese, Julien Guerinet and Katherine Atkinson.

Funders: University of Ottawa Brain and Mind Research Institute, The Ottawa Hospital Academic Medical Organization, Heart and Stroke Foundation Canadian Partnership for Stroke Recovery, The Ottawa Hospital Foundation.

The Ottawa Hospital: Inspired by research. Driven by compassion
The Ottawa Hospital is one of Canada's largest learning and research hospitals with over 1,100 beds, approximately 12,000 staff and an annual budget of over $1.2 billion. Our focus on research and learning helps us develop new and innovative ways to treat patients and improve care. As a multi-campus hospital, affiliated with the University of Ottawa, we deliver specialized care to the Eastern Ontario region, but our techniques and research discoveries are adopted around the world. We engage the community at all levels to support our vision for better patient care. See www.ohri.ca for more information about research at The Ottawa Hospital.

The University of Ottawa—A crossroads of cultures and ideas
The University of Ottawa is home to over 50,000 students, faculty and staff, who live, work and study in both French and English. Our campus is a crossroads of cultures and ideas, where bold minds come together to inspire game-changing ideas. We are one of Canada's top 10 research universities—our professors and researchers explore new approaches to today's challenges. One of a handful of Canadian universities ranked among the top 200 in the world, we attract exceptional thinkers and welcome diverse perspectives from across the globe. www.uottawa.ca

Heart and Stroke Foundation Canadian Partnership for Stroke Recovery
The HSF Canadian Partnership for Stroke Recovery is a joint initiative of the Heart and Stroke Foundation and Canada's leading stroke research centres. Headquartered at the University of Ottawa, the Partnership is restoring lives through research. The Partnership was the first organization worldwide focused exclusively on stroke recovery research. Now, it is a model for other countries. Learn more at www.canadianstroke.ca

The Ottawa Hospital mHealth Research Team
The Ottawa Hospital's mHealth Research Team combines specialists in science, engineering and medicine who support other physicians and specialists at The Ottawa Hospital in the development and evaluation of novel digital health technologies.

Media contact
Jennifer Ganton
Director, Communications and Public Relations
Ottawa Hospital Research Institute
Office: 613-798-5555 x 73325
Cell: 613-614-5253
jganton@ohri.ca