Newsroom
Spit test helps diagnose some tongue and tonsil cancers
March 1, 2017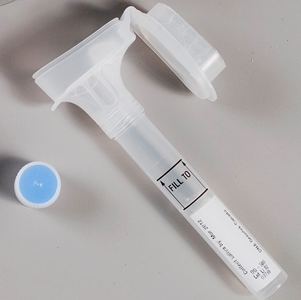 Researchers have discovered that a saliva test could speed up diagnosis for some patients with oropharyngeal cancer. These cancers happen in the tonsils and base of the tongue, and about 80 percent are caused by the Human papilloma virus (HPV). This virus is commonly known for its association with cervical cancer. Most of the time, the virus is cleared by the immune system. If not, it can be incorporated into the host DNA and increase the risk of cancer. Oropharyngeal cancers caused by HPV respond well to treatment, but if the signs and symptoms are unusual, they can take doctors a long time to diagnose. A new study published in the Journal of Otolaryngology - Head & Neck Surgery and led by Dr. Stephanie Johnson-Obaseki found that a saliva test for HPV DNA could predict with 100 percent specificity whether an oropharyngeal tumour was caused by the virus. If confirmed by further research, this test could help patients with hard-to-diagnose cases get treatment faster. The saliva tests were developed in part by Dr. H. Chaim Birnboim, a former scientist at The Ottawa Hospital and the University of Ottawa and co-founder of Ottawa-based DNA Genotek Inc.

Authors: Jason K. Wasserman, Ryan Rourke, Bibianna Purgina, Lisa Caulley, Jim Dimitroulakis, Martin Corsten, Stephanie Johnson-Obaseki.

Funders: This study received no dedicated funding, but researchers at The Ottawa Hospital are supported by The Ottawa Hospital Foundation.


The Ottawa Hospital: Inspired by research. Driven by compassion
The Ottawa Hospital is one of Canada's largest learning and research hospitals with over 1,100 beds, approximately 12,000 staff and an annual budget of over $1.2 billion. Our focus on research and learning helps us develop new and innovative ways to treat patients and improve care. As a multi-campus hospital, affiliated with the University of Ottawa, we deliver specialized care to the Eastern Ontario region, but our techniques and research discoveries are adopted around the world. We engage the community at all levels to support our vision for better patient care. See www.ohri.ca for more information about research at The Ottawa Hospital.
University of Ottawa: —A crossroads of cultures and ideas
The University of Ottawa is home to over 50,000 students, faculty and staff, who live, work and study in both French and English. Our campus is a crossroads of cultures and ideas, where bold minds come together to inspire game-changing ideas. We are one of Canada's top 10 research universities—our professors and researchers explore new approaches to today's challenges. One of a handful of Canadian universities ranked among the top 200 in the world, we attract exceptional thinkers and welcome diverse perspectives from across the globe. www.uottawa.ca
For further information, please contact
Amelia Buchanan
Senior Communication Specialist
Ottawa Hospital Research Institute
Office: 613-798-5555 x 73687
Cell: 613-297-8315
ambuchanan@ohri.ca